Paul Singer Says Aug. 24 Shows Stock, Bond Markets Are 'Unsound'
by and
Elliott's two main hedge funds up 2.4% and 2.8% in 2015

Singer sees opportunities in activist stocks, stressed credit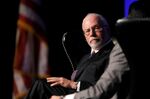 Paul Singer, the billionaire founder of $27 billion hedge fund firm Elliott Management, said stock and bond markets are structurally "unsound" as evidenced in recent market volatility.
In a wide-ranging letter that warned of the effects from low interest rates, unrest in the Middle East, and leverage in the financial system, Singer, 71, said steep declines and rapid recoveries in financial markets, such as the Aug. 24 stock market slump, and recent flash crashes in bond markets, probably foreshadow the future.
"All of the innovations and complexity in the modern world of finance combine in different ingredients at different times with different catalysts to create fragility, not stability," he wrote in a note to clients dated Oct. 27. "We wonder if the overall impact of financial innovation, including derivatives, structured products, high frequency trading and communication advances, is net negative, albeit with a possibly long delay before the drawbacks become visible."
Singer said Elliott is finding opportunities in activist equity and looking at "potentially interesting" wagers on stressed credit. "We are determined to keep our powder dry for opportunities to come," he wrote.
Elliott's two main funds -- Elliott International and Elliott Associates -- gained 2.4 percent and 2.8 percent respectively in 2015, after rising 0.2 percent and 0.1 percent in the third quarter, according to the note. Elliott Associates has risen by almost 14 percent a year on average since its inception in 1977, compared with an 11 percent return rate for the Standard & Poor's 500 Index.
Before it's here, it's on the Bloomberg Terminal.
LEARN MORE