Lesson From Japan's Mega-IPOs: Don't Sell on the First Day
by
State-backed deals too important to fail amid reform push

Positive sign for debut of nation's biggest IPO this century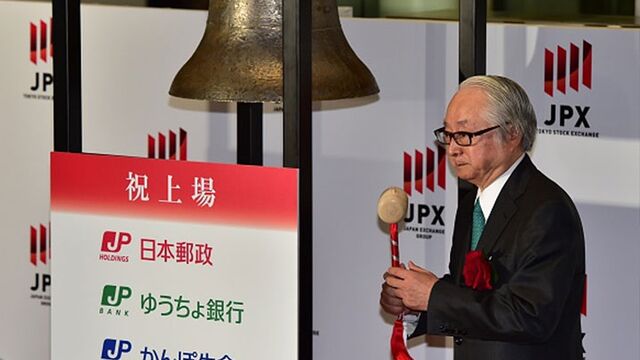 As investors prepare for the Wednesday debut of Japan Post group, the nation's biggest initial public offering this century at $12 billion, they would do well not to rush to sell on the first day.
A look at the nation's 10 biggest-ever IPOs shows the benefits of a patient approach. The top IPOs rose an average 12 percent on their first day of trading, driven by a 58 percent jump in a state-owned railway operator when it debuted in 1993, with only one company posting a loss. The mega deals kept surging after the first day to jump an average 44 percent in their first year of trading, with a state-backed wireless carrier tripling in its first 12 months starting in October 1998, data compiled by Bloomberg show.
Government support helped most of the listings, as eight of the 10 biggest IPOs had some form of state backing. 
After being subjected to the rigors of the market, managers of recently-privatized companies are under the spotlight and feel pressure to make their companies healthier and more profitable, said Yasuhide Yajima, chief economist at NLI Research Institute in Tokyo.
Prime Minister Shinzo Abe's government is selling shares in Japan Post Holdings Co. and its banking and insurance units, part of a privatization push aimed at reviving the economy from a 20-year slump. All three offerings priced at the top end of their marketed ranges, reflecting strong demand from the individual investors who were allocated most of the stock.
"The government can't let these deals fail," said Hiroaki Hiwada, a Tokyo-based strategist at Toyo Securities Co. "Shares of state-backed firms that are unleashed by the government typically perform well as time goes by, because the country wants to see their success."
Here are Japan's top 10 IPOs and how they fared:

1. NTT Docomo Inc. ($16 billion)
The state-backed wireless carrier is the best example of big returns over a longer period. It rose 19 percent on its debut in 1998, then proceeded to triple over the first year of trading as investors bet on the growing use of mobile Internet.
2. Nippon Telegraph & Telephone Corp. ($15.3 billion)
The nation's largest phone company went public in 1987, making it the only deal among the top 10 that took place before the collapse of Japan's stock-market bubble. NTT jumped 87 percent in its first year, surpassing its 34 percent gain on the first day, as the benchmark Nikkei stock index headed toward an all-time high.
3. Dai-Ichi Life Insurance Co. ($11.1 billion)
Investor interest in this rare IPO from Japan's life insurance industry helped Dai-Ichi shares rise 14 percent on their 2010 debut. Fierce competition, Japan's shrinking population and the March 2011 earthquake hurt the company's prospects in the following months, dragging down the shares 13 percent in their first year.
4. Japan Airlines Co. ($8.4 billion)
The flag carrier, which was previously struggling under 2.32 trillion yen ($19.2 billion) of debt, relisted in 2012 after a rescue from a state-backed fund. Ticket discounts handed out to individual investors buying into the IPO didn't do much to help the initial performance, with Japan Airlines rising just 1.1 percent on its debut. It eventually gained 56 percent in the first year as it increased flights to Southeast Asia.
5. East Japan Railway Co. ($7.2 billion)
The operator of commuter lines, which serves 17 million people daily in the greater Tokyo area, increased focus on property development around its train stations after its 1993 listing. Shares shot up 58 percent on their first day for the best performance among the 10 biggest IPOs, before ending their first year up 27 percent.
6. Japan Tobacco Inc. ($5.9 billion)
The maker of Camel cigarettes, which sold more than 510 billion sticks to smokers worldwide in its latest financial year, was the only IPO among the top 10 to fall on its debut day in 1994. Japan Tobacco initially fared poorly due to concerns about its reliance on domestic sales as Japan's population ages. It has since made acquisitions including RJR Nabisco Holdings Corp.'s international unit and U.K.-based Gallaher Group Ltd. to boost overseas sales.
7. West Japan Railway Co. ($5.5 billion)
The company, which runs trains near Japan's ancient capital of Kyoto, advanced just 2 percent on its October 1996 trading debut. It then rose 11 percent during the first year, buoyed by the opening of a new commuter line.
8. Central Japan Railway Co. ($4.4 billion) 
The operator of bullet trains from the capital to Osaka gradually attracted local institutional investors as it expanded its retail business to reduce reliance on rail operations. Shares rose 56 percent in a year after the 1997 debut, surpassing the 7.2 percent gain on the first day.
9. Suntory Beverage & Food Ltd. ($3.8 billion) 
The seller of Orangina soda rose just 1.5 percent on its July 2013 debut. It then unveiled plans to spend billions on acquisitions, driving its shares 27 percent higher in the year after it went public. As promised, it agreed that year to buy GlaxoSmithKline Plc's Lucozade and Ribena drinks for 1.35 billion pounds ($2.1 billion).
10. Electric Power Development Co. ($3.4 billion)
The company known as J-Power stepped up cost cuts and expanded sales to utilities to fend off new competitors on the back of the domestic electricity market's deregulation. That drove the power generator's shares 31 percent higher after a year, outstripping the 3 percent gain on its first day in 2004.
Before it's here, it's on the Bloomberg Terminal.
LEARN MORE