Kazakh Leader Dismisses Central Bank Head After Tenge Tumble
by
Nazarbayev appoints Daniyar Akishev as new central bank chief

Trust in currency and central bank is low, president says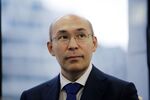 Kazakhstan's president criticized the performance of the central bank as he replaced Governor Kairat Kelimbetov, who devalued the national currency twice in his two-year tenure amid plummeting oil prices and a rout in emerging markets.
President Nursultan Nazarbayev named Daniyar Akishev, 39, an aide in his administration and former deputy governor at the central bank, to succeed Kelimbetov, according to a decree posted on his website Monday. The tenge weakened 0.4 percent to 281.26 versus the dollar as of 4:39 p.m. in Almaty, extending last month's 2.9 percent decline.

"Trust in the national currency and the central bank is low -- this can't be allowed," Nazarbayev said in a statement. "There is a deficit of tenge liquidity in the country, lending is declining. Work needs to be done to fix this poor performance."
Oil-rich nations from Venezuela to Saudi Arabia are struggling to find policy responses to the fuel's dropping price, caused by a global production glut. Kelimbetov cut the tenge loose from its dollar peg following devaluations by Russia and China, Kazakhstan's neighbors and its two biggest trading partners. That's forced him to spend at least $1.7 billion, or 6 percent of reserves, to smooth swings in what became the world's most volatile currency after it was allowed to trade freely on Aug. 20.
The central bank said Monday that it also sold $3.9 billion from the National Oil Fund to meet budget needs last month.
'Institutional Problems'
Akishev has worked for more than 18 years at the central bank, including seven as deputy governor. He's "fully examined economic issues and the state of affairs in our country" while working at the presidential administration, Nazarbayev said, according to the statement.

"Akishev's education and experience will help him cope with this task," and his appointment is necessary "for the benefit of the country's financial system," he said.
The tenge, already devalued by 19 percent in February 2014, weakened from about 187 against the dollar to a record low of 299.99 soon after the free float was introduced, when Kelimbetov predicted it would reach a balance within seven days. He told reporters in Almaty on Oct. 23 that the optimal exchange rate is at 250-270 versus the dollar.

"The central bank's problems won't be fixed by changing the head of the regulator -- they are institutional problems," Sabit Khakimzhanov, head of research at Halyk Finance, a unit of the country's second-largest lender, said by phone from Almaty. "They must be solved by changing and strengthening the mandate of the central bank, by making it more independent from the government."
'Another Job'
Kelimbetov, 46, who was named governor in October 2013, resigned to "move to another job," according to the order announcing his departure on the president's website. No details were given.
Akishev, a graduate of the Kazakhstan State Management Academy, worked at the central bank starting in 1996 and was deputy governor in 2007-2014, before moving to the presidential administration to head the social-economic department.
'Revive Confidence'
"As far as I know of Akishev's economic views, he was a supporter of the scenario of a sharp devaluation," Olzhas Khudaibergenov, director of the Astana-based Center for Macroeconomic Research and a former adviser to Kelimbetov, said on Facebook. The tenge's decline will accelerate if he retains this view, though overseeing a smoother devaluation "will give a chance to revive confidence" in the currency, Khudaibergenov said.
The tenge may weaken to 330 per dollar before strengthening to 270-280, Khakimzhanov said. "If the tenge rate will be kept at it is now, the problems in the banking sector will strengthen because of high interest rates," he said.
This year's devaluation prompted an exodus from tenge savings, leaving 64 percent of all bank deposits and 76 percent of all retail accounts denominated in foreign currencies, a record high, Moody's Investors Service said in a report Monday.
The next rate decision is scheduled for Nov. 6. The regulator raised its new base interest rate to 16 percent on Oct. 2 and may increase borrowing costs again if pressure on the currency continues, Kelimbetov said in an Oct. 5 interview.
"Akishev is a relatively unknown and unsullied technocrat figure," Kate Mallinson, a partner at London-based political risk advisory firm GPW & Co., said by e-mail. He "faces the unenviable and Sisyphean task of trying to restore public confidence in the central bank's monetary policy and is likely to have been one of the few individuals willing to take on the kamikaze position of the governor with Kazakhstan's bleak and uncertain economic outlook."
Before it's here, it's on the Bloomberg Terminal.
LEARN MORE