Jeep Sales Soar Again as Shoppers Disregard Quality Ratings
by
Consumer Reports, J.D. Power scores don't dent high demand

Cheap gasoline seen fueling another strong month for industry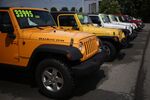 Is Jeep the new Jaguar?
Last month, Consumer Reports readers ranked the sport utility vehicle line the second-least-reliable in the U.S. market, leading only Fiat. If quality alone mattered, Jeep would be doomed to the bargain bin.
Instead Jeep is, by any other measure, a massive hit. The iconic brand is closing in on a second-straight year as the fastest-growing major auto line in the U.S. Sales in the market rose 23 percent this year through September, outpacing second-place Subaru's 14 percent, after soaring 41 percent last year. Jeep, along with Ram, is the main moneymaker for the third-largest automaker in the U.S., Fiat Chrysler Automobiles NV.
"Jeep reminds me of the European sports cars of the late '50s and '60s," said Michelle Krebs, an analyst with Autotrader.com. "They were just nightmares in terms of quality and reliability, but people still loved them. Jeep is unique. People of all ages really aspire to owning one. It has a certain cachet, regardless of the surveys."
America's renewed affection for trucks and SUVs, deepened by available credit, affordable fuel and the latest technology, is pushing auto sales to the highest level in at least a decade, helping fuel Jeep's expansion.
When automakers report October sales on Tuesday, the industry may show a 10 percent jump in car and light-truck deliveries, to 1.41 million, the average of four analyst estimates. The annualized rate, adjusted for seasonal trends, will probably be 17.7 million, the average of 13 estimates in a Bloomberg survey. The projected gains include 14 percent for Ford Motor Co., 12 percent by General Motors Co. and 13 percent for Fiat Chrysler, led by the 31 percent gain that TrueCar projects for Jeep.

Long Road
It would be Fiat Chrysler's 67th consecutive monthly sales gain, a run that owes a lot of its resiliency to Jeep. The brand's go-anywhere image was born on the battlefields of World War II and popularized in the 1980s SUV boom with the debut of the original Cherokee. Todd Goyer, a Jeep spokesman, declined to comment.
Brand sales have been helped by longtime stalwarts, Wrangler and Grand Cherokee, but also relatively newer ones, like the resurrected Cherokee, which went on sale in 2013, and the Renegade, which started selling in the U.S. this year.
It isn't just Consumer Reports. J.D. Power ranked Jeep below industry average in this year's survey of issues in the first 90 days of ownership. Only Subaru, Smart, Chrysler and Fiat ranked lower. Jeep placed third from the bottom in J.D. Power's vehicle dependability study, a longer-term look at quality. Jeep outpaced only Land Rover and, once again, Fiat.
Teflon Brands
Teflon-coated auto brands aren't new, they just tend to be niche. Jaguar was a small but infamous blend of beauty and dubious dependability. It's since evolved into a brand with above industry average reliability and aspirations of BMW-like volume.
Last month, Consumer Reports withdrew its recommendation for Tesla Motors Inc.'s Model S after owners complained about quality issues as minor as a squeaky roof and as mission-critical as an electric motor that needed replacing. Despite the complaints, Tesla owner satisfaction remains high and demand outstrips supply. Through September, Tesla had already topped last year's 31,655 deliveries.
Jeep's resiliency isn't just a U.S. phenomenon. Globally, sales rose 39 percent last year, topping 1 million for the first time. As recently as 2009, Jeep was forecasting global sales of 800,000 for 2014.
A year ago, Sergio Marchionne, Fiat Chrysler's chief executive officer, said Jeep would sell 1.9 million vehicles by 2018. Last week he said that target "is probably understated."
David Kelleher said he has been selling Jeeps at his store just west of Philadelphia since 2007. Ratings from Consumer Reports, whether positive of negative, have much less influence, he said, than what shoppers' friends and neighbors might say.
"Build a Jeep, they'll come," he said.
Before it's here, it's on the Bloomberg Terminal.
LEARN MORE