HSBC May Beat Wall Street With Majority Stake in China Firm
by and
Bank says joint venture yet to be approved by regulators

HSBC would be first foreign bank with majority equity stake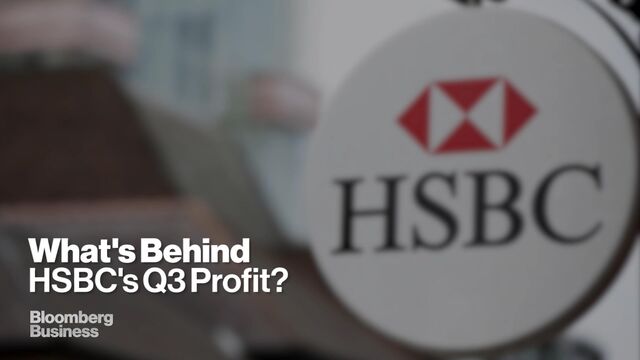 HSBC Holdings Plc is set to beat its Wall Street rivals with a majority equity stake in a joint venture in China, paving the way for Europe's largest lender to offer a range of securities and investment banking services.
If approved by regulators, it would be the first securities venture in China mostly owned by a foreign bank, HSBC Chief Executive Officer Stuart Gulliver said on Monday. Firms such as Goldman Sachs Group Inc., Morgan Stanley and UBS Group AG own minority stakes.
China is starting to ease up after decades of restrictions on foreign securities firms as the government tries to press ahead with improving efficiency in a financial industry roiled by a stock bust and corruption investigations. At the same time, the entrenched and dominant positions of local firms may signal slow progress for foreign banks.
"It's significant in terms of what it allows us to do," Gulliver said on a call with reporters after the bank reported third-quarter earnings. The joint venture, which probably won't make a profit for "three to four years," will enable the bank to underwrite renminbi-denominated bonds for companies in China and back shares on the Shanghai and Shenzhen stock exchanges, he said.
'Not Insignificant'
While Gulliver didn't disclose the costs linked to the joint venture, he said the investment required was "not insignificant."
HSBC's planned venture with Shenzhen Qianhai Financial Holdings Co. is in the financial free trade zone of Qianhai in Guangdong province, HSBC said. An economic partnership agreement between Hong Kong and the mainland lets "Hong Kong-funded" institutions set up joint venture firms with a stake of up to 51 percent in Shanghai, Guangdong and Shenzhen, according to the bank.
"We wanted to basically do our securities JV with Qianhai because actually we're very, very bullish on the opportunities that exist," Gulliver said. "The bond market is going to grow substantially in China. In order for us to be able to participate in it we need a securities license, and that's what this gives us."
After a system governing Sino-foreign securities joint ventures was set up in 2007, overseas firms were limited to owning minority stakes, and largely excluded from lucrative businesses such as secondary-market trading in Chinese debt and equities, as well as from managing money for wealthy clients.
Local Banks
Two decades after Morgan Stanley became the first foreign firm to form a joint venture on the mainland, about 98 percent of revenues in China flowed to local investment banks, industry data showed this year. Foreign banks have lobbied for years for greater access.
In May, the China Securities Regulatory Commission said it was focusing on implementing previously announced measures allowing financial institutions from Hong Kong and Macau to enter China's securities industry.
"It's not going to be the case that the foreign banks would just swoop in and take away market share from the local firms," Zheng Chunming, a Shanghai-based analyst at Capital Securities Corp. said earlier this year. "The opening up will be a gradual process."
Before it's here, it's on the Bloomberg Terminal.
LEARN MORE