Falciani a No Show at Trial That Triggered `Diplomatic Crises'
Hugo Miller
Prosecutors seek to use Falciani comments to press last week

Charged with commercial espionage, breaking bank secrecy rules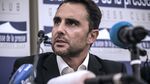 Nearly seven years after he was questioned by Geneva police about client data stolen from HSBC Holdings Plc, Herve Falciani's trial started at Switzerland's top criminal court with a squabble about whether his comments to reporters last week could be used as evidence in his absence.
Falciani, accused of commercial espionage and violation of Swiss banking secrecy, snubbed the Federal Criminal Court in Bellinzona for a second time on Monday after also failing to appear last month. His lawyer, Marc Henzelin, told the court that he hasn't been in touch with his client for about two months and can only assume Falciani knew about the trial date.
Falciani hasn't gone completely underground, however, holding a press conference last week in the French town of Divonne, less than a mile from the Swiss border. The presiding judge and lawyers for both sides spent part of the morning discussing whether what Falciani said last week could be used as testimony.
"I doubt that he was unaware that the press conference was being recorded," Carlo Bulleti, the chief prosecutor, said at the courthouse in Bellinzona, close to the Italian border.
The case pits the Frenchman's claims that he uncovered widespread tax evasion by HSBC clients against the London-based bank and Swiss prosecutors' allegations that he tried to sell the stolen data and only turned it over to French authorities when he found he couldn't make money from it.
According to Swiss prosecutors, Falciani stole 13,619 client files, which represented 75 percent of the active accounts HSBC's Swiss private bank at the time. A myriad of electronic devices ranging from USB keys to laptops as well as business cards in the name of Ruben Al-Chidiack -- the moniker prosecutors say Falciani used to try to sell the data in Lebanon -- were seized during the investigation.
Federal prosecutors admit the whole episode has proven embarrassing for Switzerland. The leak of the data to foreign governments has created "diplomatic crises for Switzerland and third-party pressure on banking secrecy," according to the complaint.
Falciani, a computer technician at HSBC's private bank in Geneva, is accused of downloading 67 gigabytes of client files over the 16 months leading up to him being questioned by Geneva police in December 2008. Falciani was interviewed and was released on condition that he return for further questioning the next day. He never did, fleeing the next day to his native France, which borders Geneva on three sides.
Falciani's revelations triggered a U.K. Parliamentary inquiry into the bank and an investigation by Geneva prosecutors. However, the Geneva probe into aggravated money-laundering probe was dropped in June, in return for HSBC agreeing to pay a 40-million Swiss franc ($40.5 million) fine for "past organizational deficiencies."
A guilty verdict on the charges of violation of banking secrecy and industrial espionage Falciani faces carries a sentence of up to five years. He is able to skip the Swiss criminal trial because France doesn't extradite its citizens. The trial is scheduled to continue all week.
The trial has been adjourned until Tuesday morning when it will reconvene for the testimony of federal police investigator Cedric Humair.


Before it's here, it's on the Bloomberg Terminal.
LEARN MORE