Demographic Challenge to Korea Drives Bull Run for 10-Year Bonds
by , , and
Aberdeen sees pension funds, insurers keeping yield curve flat

Aviva Investors says record household debt crimps GDP growth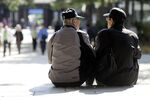 South Korea's bond market is reflecting dwindling prospects for Asia's fourth-largest economy as its population ages.
The government forecasts the ratio of people aged 65 or over will reach 40 percent by 2060, clouding the long-term outlook just as an export slump brakes expansion this year. Demand for longer-dated notes helped push the yield on 10-year sovereign bonds to below that on comparable U.S. Treasuries at the end of last month and narrowed their premium to shorter domestic debt to the smallest since April.

"The potential growth rate of the Korean economy is falling, and one of the key reasons is the demographic challenge," said Adam McCabe, Singapore-based head of Asian fixed income at Aberdeen Asset Management, which oversees $483 billion. "There is significant demand for interest-rate products and that keeps the yield curve very, very flat."
The Bank of Korea has cut interest rates to a record to battle deflationary pressures and workers preparing for retirement are pooling their savings in funds that favor fixed-income products. The economy's potential growth rate will drop to 1.8 percent between 2026 and 2030 and to 1.4 percent in between 2031 and 2035, the state-run Korea Development Institute estimates. Private pension savings rose about 12 percent to 100.8 trillion won ($88.7 billion) in 2014, Financial Supervisory Service data show.
The 10-year yield was 47 basis points higher than that on three-year bonds on Monday, data compiled by Bloomberg show. The spread was 41 on Oct. 28, the narrowest since mid-April. KB Investment & Securities Co. predicts the gap will decline to 39 this month, while Daewoo Securities Co. sees it at 30 basis points by year-end. The yield on notes maturing in June 2025 rose two basis points to 2.13 percent as of 9:25 a.m. Tuesday in Seoul, according to Korea Exchange prices.

"The spread has been tightening on speculation South Korea's economy is unlikely to see stronger growth momentum going forward," said Kim Sang Hoon, fixed-income analyst at KB Investment & Securities in Seoul. "Fourth-quarter growth will be disappointing as the pickup in the third quarter was temporary."
Gross domestic product increased 2.6 percent last quarter from a year earlier, from a two year-low of 2.2 percent in the preceding three months, led by a pick up in domestic consumption. Exports shrank for the 10th month in October and the BOK last month cut its 2015 GDP growth forecast to 2.7 percent from 2.8 percent. Inflation was at a four-month low of 0.6 percent in September after dropping to record 0.4 percent in March.
A graying society curbs inflation as less money is spent on housing, cars and clothing and more is saved in funds that buy bonds.
"This story about bond yields being low for longer is a long-term story," said McCabe from Aberdeen Asset. "Demand for bonds, the demand for duration, is still there and that's why the curve is flat. That's a structural story."
Household Debt
Yields could remain low for a considerable period as the BOK's four rate cuts since August 2014 have yet to revive growth, according to Aviva Investors, the global asset management arm of U.K. insurer Aviva Plc. That's because household debt, which stood at a record 615.8 trillion won in September, is crimping domestic spending and investment.
"Monetary policy isn't effective in terms of the transmission mechanism when the private sector doesn't want to take on more debt," said Ian Pizer, London-based head of strategy at Aviva Investors, which oversees about 300 billion pounds ($463 billion). "If you look at the household sector, we don't feel they are in a frame of mind to increase leverage. We don't see that low rates are likely to cause an acceleration in growth."
Korean bonds are also favored by global funds and central banks who view them as a relatively safe investment among emerging markets. While foreigners bought a net $35.4 billion of the securities in 12 months, latest FSS data show their holdings accounted for 6.6 percent of won-denominated listed bonds as of Oct. 30. Foreign central banks accounted for 45.5 percent of overseas holdings at the end of 2014, Finance Ministry data show.
Low foreign participation, with "a significant part coming from foreign public sector, render the Korea Treasury Bond market relatively stable," said Frances Cheung, head of Asia rates strategy in Hong Kong at Societe Generale SA. "Its increasingly seen as a developed market, and is one major Asian market that attracts reserve diversification flows. We continue to expect a very narrow, near-zero, gap between 10-year KTB and U.S. Treasury yields."
Before it's here, it's on the Bloomberg Terminal.
LEARN MORE