Commerzbank Profit Beats Estimates as CEO Prepares to Exit
by and
Loan-loss provisions drop 57 percent from year earlier

German Lender plans to pay first dividend in eight years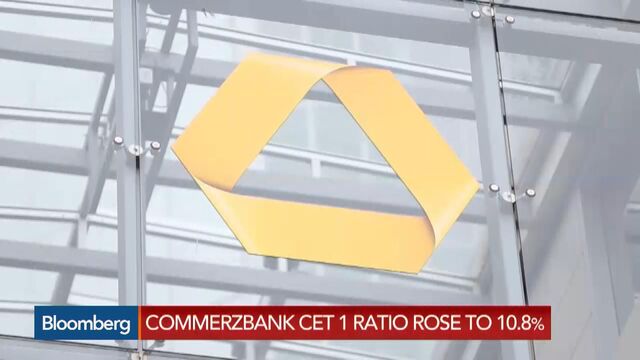 Commerzbank AG, Germany's second-biggest lender, reported third-quarter profit that beat analysts' estimates as Chief Executive Officer Martin Blessing prepares to leave the company. The shares rose the most in almost two months.
Operating profit climbed 25 percent to 429 million euros ($473 million) in the three months through September from 343 million euros a year earlier, Commerzbank said in a statement on Monday. That beat the 319 million-euro average of four analyst estimates compiled by Bloomberg. The company plans to pay a dividend of 20 cents a share for 2015, its first in eight years.

Blessing won't be extending his contract after it expires in October, Commerzbank said on Sunday. The CEO said he's preparing for a "new chapter" in his professional life, without elaborating. The executive, 52, has been overhauling Commerzbank by cutting jobs and winding down soured shipping and commercial real estate loans.
Blessing's Legacy
"All the heavy lifting has been done by Martin Blessing, especially with regards to running down the non-core assets," Neil Smith, an analyst at Bankhaus Lampe who recommends investors buy the shares, said by phone from Dusseldorf. "The new strategy and targets, which may be disclosed early next year, are basically turning the page."
Commerzbank plans to pay out 40 percent of profit in dividends in the mid-term, Chief Financial Officer Stephan Engels told analysts on a conference call on Monday. "I think mid-term is a little bit further away than already next year," he said, adding that the policy may be affected by the regulatory environment.
Commerzbank was up 6.3 percent at 10.64 euros at 10:57 a.m. in Frankfurt trading, the biggest intraday gain since Sept. 8. The shares dropped 9.2 percent this year through Friday, compared with a 1.6 percent increase of the 46-member STOXX Europe 600 Banks Price Index.
Loan-loss provisions dropped to 146 million euros from 341 million euros a year earlier, Commerzbank said. The company's common equity Tier 1, a key measure of financial strength, increased to 10.8 percent at the end of September from 10.5 percent in June.
Investors reacted positively to the dividend, the higher capital ratio and the bank's ability to cope with low interest rates, said Andreas Plaesier, an analyst at MM Warburg in Hamburg, who has a hold recommendation on the shares.
Commerzbank's stock of shipping and commercial real estate loans that it wants to exit dropped by 19 percent to 22 billion euros in the three months through September.
The consumer banking unit saw operating profit almost double to 230 million euros in the third quarter from a year ago. The Mittelstandsbank unit, which caters to small and medium-sized companies, saw profit decline 41 percent to 216 million euros as it wrote down the value of a shareholding in a technology company.
Third-quarter net income declined 9 percent to 207 million euros on higher taxes and restructuring costs.
Before it's here, it's on the Bloomberg Terminal.
LEARN MORE