Carney to Signal U.K. Rate Outlook With Final 2015 Forecasts
By
Officials will probably leave key rate at 0.5% on Thursday

Forbes may join McCafferty in push for higher borrowing costs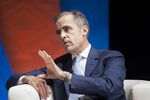 Mark Carney is approaching his self-imposed deadline to clarify policy thinking.
 
The Bank of England governor has been saying since July that the timing for the first interest-rate increase will become clearer at the turn of the year. This week is one of his last opportunities to guide investors, as he presents the central bank's final economic projections for 2015 at the Inflation Report press conference in London. 
Carney's heading in the same direction as officials at the U.S. Federal Reserve, who are edging closer to removing emergency stimulus and kept the door open to a rate increase next month. While so far only one of the U.K.'s nine rate setters has voted for tighter policy, some economists say another may join the push this week. Still, investors aren't convinced, betting that the Monetary Policy Committee will keep the rate at a record low for most of next year.
"The communication is very tricky," said Ross Walker, an economist at Royal Bank of Scotland Group Plc in London. "They will not want to validate this dovish market pricing."

In a survey on Monday, Markit Economics said U.K. factory growth unexpectedly accelerated to the fastest pace in 16 months in October. New orders surged, and Markit said there's a "tentative suggestion that manufacturers are pulling out of their recent funk."
Policy makers said last month that global developments have weakened prospects since their last set of forecasts in August. Officials voted 8-1 to keep the benchmark at 0.5 percent in October, and the majority of economists surveyed predict the same outcome this month. Investec Bank and HSBC Holdings Plc are among banks forecasting a 7-2 split with Kristin Forbes joining Ian McCafferty in dissenting.
Forward contracts based on the sterling-overnight index average, or Sonia, suggest a full 25 basis-point increase won't come until December 2016. That compares with September 2016 at the end of August.
"So long as the external environment holds up, interest rates will rise once the BOE hears the right noises from the domestic data," Bloomberg Intelligence economists Dan Hanson and Jamie Murray wrote in a note. They predict the bank will increase its benchmark in May.
Inflation Outlook
Where the central bank's staff see inflation headed over the medium term will be key. The August forecasts projected consumer-price growth to be above the bank's 2 percent goal in three years, a sign that rates are likely to rise. Since then, the pound has fallen about 2 percent on a trade-weighted basis, potentially giving a lift to inflation.
"We think the overall tone of the report will be dovish, but not as dovish as the profile for market rates," said Sam Hill, an economist at RBC Capital Markets in London. "On this basis we still look for a small overshoot of the 2 percent inflation target after the two year point," in the BOE's projections, he said.
Britain's inflation rate turned negative for only the second time since 1960 in September, reflecting weak price pressures that the central bank has warned will persist into 2016. The economy grew less than forecast in the third quarter and some business surveys have pointed to a cooling outlook. In contrast, the unemployment rate is at its lowest since 2008 and real incomes growth is supporting consumption.
The BOE is not the only global central bank trying to determine when borrowing costs should start to rise from record lows. Fed officials last week toned down their warning that the global economy will restrain growth and signaled they will consider tightening policy at their December meeting.
"With the Fed's first rate hike appearing closer, the MPC should be comfortable guiding the more cyclically advanced U.K. economy toward expecting earlier rate hikes," said Philip Rush, an economist at Nomura International Plc in London. "Further falls in oil prices present disinflationary pressure in the near term, but unemployment's resumed decline and wage pressures mean the medium-term outlook should be more buoyant."