The Russian Recession Is Helping Airbnb Win Moscow
by
Moscow joins Airbnb list of top 10 cities for outbound booking

France's BlaBlaCar says Russian ride-sharing growth unmatched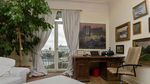 Almost 25 years after the fall of communism, the sharing economy is coming back to Russia. 
Falling incomes and double-digit inflation have turned the country into one of the fastest-growing markets for San Francisco-based Airbnb Inc., France's BlaBlaCar and other services designed to cut the cost of travel. 
A record number of Russians are opening their apartments and cars to strangers to supplement their salaries, helping to lift the siege mentality the Kremlin's been promoting since the U.S. and other former Cold War foes imposed sanctions over the conflict in Ukraine last year.
"The traditional Russian mindset of 'my home is my castle' is changing as more people open up and seek extra income to cope with the economic turmoil," Airbnb's country chief, Andrew Verbitsky, said in an interview.
The lodging website's Russian business has more than doubled in the past year, elevating Moscow into the top 10 cities by outbound bookings as travelers seek cheaper alternatives to hotels. And unlike several other cities, such as New York and Barcelona, Moscow's government says it has no plans to introduce special regulations or tax rules for Airbnb.

'Impermissible Luxury'
Residents of Paris, London, New York, Los Angeles and San Francisco are Airbnb's biggest renters, followed by Melbourne, Sydney, Toronto and Singapore. The company, which has been valued at more than $25 billion, charges a commission of 6 percent to 12 percent, depending on room price.
Last year, most of Airbnb's Russian listings, which now total 18,000, were whole apartments. This year, more people are renting out single rooms, Verbitsky said.
During the Soviet era, being allowed to have an apartment or car was the ultimate status symbol that few people would share. That's an attitude people like Vitaly Shitnev, an advertising executive in Moscow, can no longer afford.
"It suddenly dawned on me that having an extra room was an impermissible luxury after the ruble's collapse," Shitnev said.
Record Growth
Shitnev charges about $54 a night to stay with him in a Stalinist high-rise and the room is occupied about two-thirds of the time, boosting his income by 20 percent a month. But he said money isn't the only thing he gains -- the flow of guests from countries including the U.S. and Germany gives him a chance to exchange views with a diverse group of people.
And it's not just their homes Russians are offering.
BlaBlaCar, the long-distance ride-sharing service that was valued at $1.6 billion in a fundraising round in September, said it's been astounded at how fast it has grown since entering the Russian market early last year.
"There was skepticism at first, but we hit 1 million users within 10 months," BlaBlaCar Russia chief Aleksey Lazorenko said. "No other country in Europe has shown such a pace of growth after launch."
Irina Posrednikowa, who works at the Goethe Institut in Moscow, said the timing of BlaBlaCar's arrival couldn't have been better. The service was up and running just as the ruble's decline was forcing people to curtail spending.
Bodybuilder, Stripper
She traveled to St. Petersburg, a 650-kilometer journey, in a private car for just 1,000 rubles. That sum was worth more than $30 two years ago. Now it's less than $16.
"If I had gone by plane, just the taxi to the airport would have cost that much, and the flight itself another 4,000," Posrednikowa said.
BlaBlaCar connects drivers and passengers, estimates gasoline costs and recommends each traveler pay a third. In most of Europe, the company takes a commission of about 12 percent, but its Russian service will be free until more people get used to the concept.
Ildar Valeev, a 26-year-old motor-oil salesman who has to drive between cities for work, said he loves not only having companions but also choosing them. BlaBlaCar users are asked to indicate their music preferences and degree of chattiness (Bla, BlaBla or BlaBlaBla) to help ensure compatibility. 
He said his favorite trip is one he took recently from Izhevsk to Ufa, cities 340 kilometers apart, with three colorful characters who were very "BlaBlaBla."
"I had a bodybuilder, a stripper and a museum worker," Valeev said. "There was a lot to talk about."
Before it's here, it's on the Bloomberg Terminal.
LEARN MORE