Turkish Voters See Choice Between Authoritarianism and Stability
by
Turks return to ballot boxes to break political deadlock

Voters worried about democracy, media freedom under Erdogan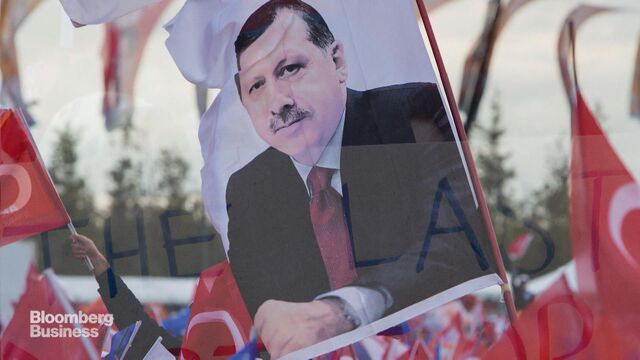 As Turks head to the polls for a second time in five months, supporters of the AK Party that's ruled Turkey for 13 years say they want to continue reaping benefits of political stability. Opponents are worried about deteriorating democratic standards and the role of President Recep Tayyip Erdogan, whose demands for more power are towering over the vote.
Other issues on voters' minds include:
Terrorism:
Since the inconclusive June 7 vote, Turkey has resumed fighting the Kurdistan Workers' Party, or PKK, ending a three-year truce that had put a pause in more than three decades of bloodshed. Islamic State also casts a shadow over the vote, after suicide bombers linked to the group killed 102 people in Ankara on Oct. 10.
The economy:
Growth is slowing, inflation is on the rise and the Turkish lira has weakened 20 percent this year. The situation got worse after the ruling AK Party lost its single-party majority for the first time in June, with businesses putting investments on hold and record foreign investor outflow from the nation's stock and bond markets.
Coalitions:
For the most part, Turks have bad memories of coalition governments: paralyzed decision-making and economic malaise. Opposition parties' failure to agree on forming a government after the last vote threw the nation into political chaos. Opposition voters hope something will change this time.
Here's what some voters in the nation's capital had to say on Sunday:
Ozlem Durusu, 26, office worker:
"The biggest problem in the country is that we're distancing ourselves from democracy. Almost every single speech of the president is an example of that. Look at how Turkey is seen from developed countries: newspapers are raided, televisions are silenced. Today is the anniversary of the abolition of the Ottoman sultanate. I hope we'll get an election result to match the importance and significance of the day."
Elif Dogan, 56, housewife:
"We'll bring an end to Erdogan's sultanate. If it's a free and fair election under equal conditions, I believe a coalition will come out of the ballot box."
Karanfil Salan, 70, retired:
"We are expecting AK Party to come to power alone because coalition governments can't answer the needs of this country. Before, we were importing infantry rifles from abroad, today we're building our own unmanned drone. There may be shortcomings, but Turkey today is in much better shape than it was."
Cem Ertan, 21, student.
"I'm voting for the first time. I think the single-party government is increasingly becoming an oppressive administration. The party that I will vote for may not become to power, but it will teach a good lesson to the 12-year government."
Guliz Yenice, 24, student:
"There is fear in Turkey. An elderly man warned me yesterday that 'bombs may have been planted in schools where voting will take place.' This atmosphere of tension can't be healed by returning to power an administration that has been ruling the country for 12 years."
Eray Kaya, 29, worker:
"Defending nationalism has become a crime in the country. Those who were bargaining with the PKK and who brought the country to the brink of division are now trying to deceive the people with election songs."
Erdem Baktir, 27, student:
"I expect more democracy from the election. Turkey is swiftly running toward disintegration and polarization. I am expecting a coalition."
Feridun Budanaz, 27, businessman:
"I am expecting AK Party to come to power alone. Right now, the economy is in very bad shape. A coalition would never be helpful. I supported the MHP in the past but it has turned into a party that says 'no' to everything."
Mahmut Aslan, 31, worker:
"My only wish is for a higher turnout and that no one steals our votes. Then there will naturally be a good result."
Before it's here, it's on the Bloomberg Terminal.
LEARN MORE