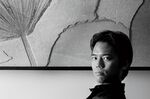 For Cliff Hartono, it was a surreal moment. In October 2012, he was standing on a Wyoming hilltop, a hotbed of fossil discoveries. Dotted with Angus cattle, horses, and deer, the landscape was a world away from London's Canary Wharf, where only a month earlier, surrounded by six computer screens, he had been selling exchange-traded funds at Credit Suisse Group.
Now here he was, at 27, on an Indiana Jones–style expedition with a bunch of American fossil hunters in cowboy hats. "Hey, kid, is this the first time you held a sledgehammer?" asked one of them, his body adorned by several fossil-shaped tattoos. Hartono remembers replying, "The heaviest thing I lifted last month was a computer mouse."
The rest, as they say, is prehistory. Hartono and the fossil diggers hit it off, and he was on his way to becoming a collector and dealer—a dream born of wandering through London's Natural History Museum. Wyoming remains a chief source, along with Germany, where he was born and raised until the age of 7 by his ethnic-Chinese Indonesian parents.

From his current base in Singapore, where he's a managing director at Three Arrows Capital, Hartono has created a new niche market in fossils as art and chic home decor. His haul—including a fossilized marine reptile, a Jurassic-age ichthyosaur, that he sold for about S$200,000 ($140,000)—ranges in age from 20 million to 230 million years. A dedicated surfer, Hartono pursues his business with relentless gusto, citing his favorite quote from the late surfing legend Mark Foo: "If you want to ride the ultimate wave, you have to be willing to pay the ultimate price."
Private fossil collectors have been around for ages. But the 1993 release of Jurassic Park sparked a fossil rush, says Michael Pittman, head of the Vertebrate Paleontology Laboratory at the University of Hong Kong. In New York in 1997, Sotheby's auctioned off a dinosaur fossil known as Tyrannosaurus Sue that was snapped up by Chicago's Field Museum of Natural History for a record $8.4 million. Then, in 2007, actor Nicolas Cage outbid Leonardo DiCaprio for a T. rex skull at $276,000.

In May, Evolved Ltd., a Hong Kong dealer, offered to sell a gigantic triceratops skull for $1.8 million. There's no record whether the specimen was sold, and Evolved didn't respond to e-mailed questions. "There are many new collectors in Asia now," says Mark Norell, chairman and curator of paleontology at the American Museum of Natural History in New York, who has led numerous research expeditions in the Gobi Desert in Mongolia.
For people like Norell and Pittman, that's not necessarily good news. Fossils locked away in private collections may never be studied by scientists or seen by the public. Then there's the question of patrimony: To whom do the fossils really belong? While exporting fossils is banned in many countries, including Brazil, China, and Mongolia, a black market has flourished. Fossils found on private land in the U.S. can be sold to anyone anywhere.
Hartono says commercial diggers can afford excavation projects that museums and universities can't, spurring new discoveries. "Undiscovered fossils will just crumble to dust," he says. Norell also points to one reassuring trend. "Many private collectors have given important fossils to museums," he says. Hartono says regulations are necessary, but overregulation has unintended consequences. "It's about striking a balance," he says. For this reason, he sticks to Wyoming and Germany, where the laws are clear.
Hartono says he's surprised by the lack of younger competitors, even among the scientifically inclined. "It's a bit of an older people's game," he says. "If you were a geek growing up in the '80s or '90s, you went into science or paleontology. Nowadays, you learn coding."
Before it's here, it's on the Bloomberg Terminal.
LEARN MORE