Merkel's Refugee Troubles Mount as Allies Clash on Border Plans
by , , and
Chancellor and Seehofer to address Bundestag caucus Tuesday

German coalition party leaders divided on transit zones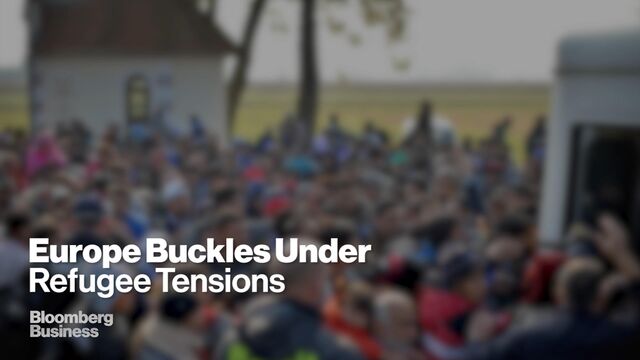 German Chancellor Angela Merkel faces further coalition discord over the refugee crisis after weekend talks with fellow party leaders failed to identify a common government stance on tackling the biggest influx of migrants since World War II.
QuickTake Europe's Refugee Crisis
The disagreement threatens another stormy week for the beleaguered chancellor as lawmakers return to Berlin for a parliamentary session that will again be dominated by the projected arrival of as many as a million asylum seekers in Germany this year.

With public concern mounting and party support on the slide, Merkel and Horst Seehofer, the Bavarian state premier and Christian Social Union chief who has demanded she stem the flow of migrants, will address their joint parliamentary caucus Tuesday on efforts to tackle the crisis. 
"It worries people that well over 10,000 people come every day across the German-Austrian border without us being able to control this in any way," Jens Spahn, deputy finance minister and member of Merkel's Christian Democratic Union, said Sunday on ARD television. "We must send a signal that we can't help everyone in this world who is somehow in need, as hard as it is."

Merkel met for a total of some 10 hours on Saturday evening and throughout Sunday with Seehofer, who heads the CDU's Bavarian sister party and is her chief coalition critic. Bavaria is the main gateway to Germany for the refugees pouring over the border from Austria, and Seehofer had said the Bavarian state government would take unspecified action if Merkel didn't meet his demands to curb the number of migrants. In the last two months, 344,000 refugees entered Bavaria, according to the state's interior ministry.
The two leaders agreed on the main goals of controlling immigration and combating the root causes of the crisis "so as to reduce the number of refugees," and to help integrate those in need, according to a joint position paper e-mailed after the talks.
Transit Zones
The "most urgent" measure was to pursue the setting up of so-called transit zones along the border with the aim of filtering out economic migrants from those such as Syrian refugees with a genuine claim to asylum. Those arriving from "safe" countries, such as Kosovo or Albania, would be subject to an accelerated asylum process to send them home.
A decision on transit zones should be made this week before a Nov. 5 meeting of Germany's 16 state prime ministers and the three coalition leaders, according to the joint CDU/CSU paper.
That suggests coalition strife ahead. Social Democratic Party chief Sigmar Gabriel, who attended the Chancellery talks on Sunday, dismissed the concept of transit zones as "inappropriate" and legally doubtful.
"Rather than huge and uncontrollable prison zones on the country's borders, we need lots of registration and immigration centers inside Germany," Gabriel told a party meeting on Saturday, according to the SPD website.
German Soil
Steffen Seibert, Merkel's chief spokesman, said that experts from the federal government and the states will work on the topic of transit zones in preparation for the three party heads' meeting on Thursday.
"This is only feasible with a fence and permanent controls. But on the soil of Germany, with such a structure, well I would advise them to follow our proposal," Martin Schulz, European Parliament president and SPD member, said in an interview. "I presume that a pragmatic solution in our direction will prevail, instead of this attempt of Seehofer and Merkel to reunify their two very divided parties by finding an external enemy."

While the coalition tone on refugees appears to be hardening, Merkel held to her core principles that there can be neither caps on asylum seekers nor the closing of the German border to migrants. A record 218,394 refugees fled across the Mediterranean Sea in October, more than in all of last year, the United Nations refugee agency said.
As the chancellor seeks to defuse the political unrest over her open-door refugee policy, she also confronts waning public approval. Backing for her CDU-led bloc slipped two percentage points to 36 percent last week, down from an August peak of 43 percent, according to a weekly poll carried out by Forsa.
Merkel is in no immediate political danger from lawmakers who don't have any appetite to topple her. Tuesday's caucus meeting will provide an indication of the tide against her all the same. With the German authorities also warning of mounting attacks on asylum seekers and a drift to extremism, the chancellor faces creeping isolation as a public initially lining up to welcome refugees begins to fret over the ever-mounting number of newcomers.
Merkel will be able to parry threats from the CSU and within her own party, said Andrea Roemmele, a political scientist at the Hertie School of Governance in Berlin. "What she cannot lose is public support." 
Before it's here, it's on the Bloomberg Terminal.
LEARN MORE