Jeb Bush Says He Needs to 'Break Through the Clutter'
by
Says 2016 presidential campaign still in the `second quarter'

Hasn't gone back to watch tape of panned debate performance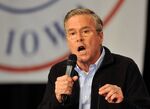 Jeb Bush said he must find a way to "break through the clutter of all the punditry class" to get his campaign for the 2016 Republican presidential nomination back on track.
Widely panned for his performance at a debate in Boulder, Colorado, on Oct. 28, Bush has also in the past two weeks cut salaries for his staff and had to reassure anxious donors, on a conference call, that his campaign was still in good shape.
"I know that I got to get better at doing the debate. I'm a grinder," Bush, a two-term Florida governor and the son and brother of former U.S. presidents, said Sunday on NBC News' "Meet the Press." Bush, 62, said he had not gone back to rewatch the debate.
The realclearpolitics.com website shows Bush running in fifth place nationally among Republicans, with about 6.6 percent support -- fifth in Iowa, which will hold the first nominating contest for 2016 in late January, and fourth in New Hampshire.
Bush said he is playing the long game for the Republican nomination, focusing on winning early-voting states that include South Carolina and Nevada, as well as Iowa and New Hampshire.
"We've got to get to the second half of the game here, man," Bush said to NBC's Chuck Todd. "We're in the second quarter. I mean, this time eight years ago, Hillary Clinton was 25 points ahead of Barack Obama. I don't remember people saying, 'Obama, you've got to get out of the race.' "
Death Penalty
In a broad-ranging interview that also touched on education policy and foreign policy, Bush said he was "conflicted" about the death penalty, even though he oversaw its use while he was governor of Florida.
"It's hard for me, as a human being, to sign the death warrant, to be honest with you," he said. "I'm informed by my faith in many things, and this is one of them."
Bush said he doesn't believe the death penalty is a deterrent to crime because it's carried out so rarely and it has become costly. At the same time, he said he had become "more comfortable with it" after meeting with the families of murder victims.
Saying that he has the leadership skills to fix "really big, complex things" in the U.S., Bush said he is still enthusiastic about what he had earlier pledged would be a "joyful" campaign.
"It's early. It's early," he said. "Patience. Got to be patient."
Before it's here, it's on the Bloomberg Terminal.
LEARN MORE