Japan, S. Korea, China Set Aside Tensions to Vow Cooperation
by and
Three to seek free-trade deal as trilateral talks revived

Economic, security threats start to trump historical animosity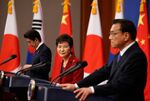 After three years of strained relations, the leaders of China, Japan and South Korea declared cooperation was "completely" restored as the need to shore up their flagging economies and respond to a nuclear-armed North Korea trumped historical animosities.
The pledge to cooperate "unwaveringly" came at a meeting between South Korean President Park Geun Hye, Japanese Prime Minister Shinzo Abe and Chinese Premier Li Keqiang in Seoul, the first trilateral summit since 2012. Even as South Korea and China drew closer under Park, the once-annual trilateral gatherings ground to a halt given tensions with Japan over territory and the legacy of World War II"
"The summit opened the sluice gate for cooperation that's been shuttered for some time now," said Lee Ji Yong, who tracks Northeast Asian relations at the government-affiliated Korea National Diplomatic Academy in Seoul. "Economic interests are the imperative that compel these countries to cooperate. Still, history remains an obstacle along with territorial issues."
The three countries, which collectively make up about a fifth of the world economy, are struggling to maintain the growth that turned them into Asia's economic powerhouses as they face slumping demand for their exports. The urgency of mending ties has also increased as North Korea continues to expand its nuclear arsenal and the range of its ballistic missiles, which can reach Seoul, Tokyo and Beijing.
Disarmament Talks
The summit was welcomed in the Chinese media, with the official Xinhua news agency saying the effort could help put pressure on North Korea to return to six-nation disarmament talks, which also included the U.S. and Russia.
Japan has much more introspection and correction to do," Xinhua said in a commentary. "Its approaches to historical and territorial issues remain haunted by nationalist and opportunistic tendencies, which poses the largest potential threat to the growing yet still fragile rapprochement between China and Japan.
The three leaders reached the common recognition that given their economic interdependence and the shared security threats, their tensions "must be overcome in order to build permanent peace, stability and co-prosperity in the region," according to a three-way statement released after their meeting. They agreed to face history squarely and deal with related issues "properly."
In separate talks, Abe and Li agreed to deal with the problems between their nations in line with past agreements, saying they would restart talks on resources in the contested East China Sea. They also pledged to deepen cooperation in economic and financial fields.
China Manufacturing
All three leaders need to find new markets for their exports and they pledged to complete a three-way free trade agreement that's been in the works for more than three years.
The meeting came on the same day that data showed that manufacturing weakness in China has yet to bottom out, with a third monthly decline in production. South Korean exports fell 16 percent in October, the biggest drop since the global financial crisis. Despite sweeping fiscal and monetary stimulus under Abe, the world's third-biggest economy may have slipped into recession last quarter with deflationary fears on the rise.
Abe Effect
Japan's relations with its Asian neighbors have soured under Abe as he pushed to boost the role of the military. That fueled fears in China and South Korea of a revival of militarism in a country that occupied the Korean Peninsula for 35 years and invaded China, unleashing a conflict that killed millions. Abe's Liberal Democratic Party tends to be backed by the country's nationalists, many of whom make light of the war-time atrocities committed by the Imperial Army that remain very much a part of the popular consciousness in China and South Korea 70 years after Japan's defeat.
Polls in South Korea show that Abe is about as unpopular as North Korean leader Kim Jong Un, who regularly threatens to use his nuclear weapons to turn Seoul into a river of fire. Animosity toward Japan is fanned by the media, with television shows, films and musicals on the brutality of Japan's colonial rule on regular release. A 2015 film "Assassination," about a plot to kill a senior Japanese official and a Korean collaborator drew more than 10 million viewers, about a fifth of the South Korean population.
Shrine Visit
Abe too has fed that resentment. In 2013, he visited a Tokyo shrine seen by many in Asia as a symbol of past militarism, prompting public outrage in South Korea and China.
While Abe had made some progress in mending ties with China, relations with South Korea remain intensely strained. Until now, Park had refused to hold a bilateral meeting with Abe, saying he had to do more to atone for Japan's wartime misdeeds, particularly its treatment of the so-called "comfort women" who were forced into sexual servitude. Park will also hold a bilateral meeting with Abe on Monday, where she is likely to press him for a new formal apology and compensation for the less than 50 surviving comfort women in Korea.
Any thaw in Japan's relations with South Korea will be warmly received by the U.S., which wants its two wealthy East Asian allies to work together to help balance China's growing assertiveness in the region, and collectively respond to the North Korean threat. The U.S. has more than 75,000 troops based in Japan and South Korea, about half all U.S. forces abroad.
'Best Behavior'
"I think hosting the summit and agreeing to a bilateral with Abe is a sign of a desire by Park to, at least partially, patch things up with Japan," said Robert Dujarric, director of the Institute of Contemporary Asian Studies at Temple University Japan campus. "That's something the U.S. wants, as does Japan, so Abe is on his best behavior."
Park has made pressuring Japan on the history issue a central part of her presidency and it remains to be seen how her change in posture will be accepted by a public so conditioned to oppose Japan. The resumption of the dialogue means that she will likely visit Tokyo, as the trilateral forum will be hosted by Japan next year.
Before it's here, it's on the Bloomberg Terminal.
LEARN MORE