China, Japan, South Korea Declare Cooperation Fully Restored
By and
Leaders of three nations pledge to tackle regional issues

Territorial and historical spats have hampered relations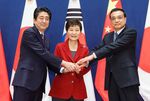 China, Japan and South Korea said their cooperation was "completely" restored after three years of strained ties and pledged to work collectively to respond to everything from slowing economic growth, to terrorism and the North Korean nuclear threat.
The agreement came Sunday in Seoul, where South Korean President Park Geun Hye, Japanese Prime Minister Shinzo Abe and Chinese Premier Li Keqiang held the first three-nation summit in more than three years.
Territorial and historical disputes have raised tensions in their region since the previous summit in 2012, while their share of the world economy has risen to more than 20 percent. Investment among the three countries has increased in recent years as China became the biggest trading partner for both Japan and South Korea.
"We agreed we would continue to try to achieve peace and stability in the region based on the spirit that we squarely face history and look to the future," Park said at a press conference with Abe and Li. "We assessed that practical cooperation in a variety of areas has increased among the three nations despite fluid circumstances in and out of the region."
Territorial Spats
China and Japan have squared off over the sovereignty of islands in the East China Sea, while South Korea and Japan remain deadlocked over another set of islets. Japan's wartime actions also remain a sensitive topic in China and South Korea. Both China and South Korea have demanded Japan do more to address its wrongdoing in World War II.
The three leaders also agreed to boost efforts to sign a free-trade deal, Park said. The countries have engaged in negotiations since early 2013. A deal could provide a boost to the region at a time of slowing growth.
The three nations will work toward the "prompt" resumption of six-nation nuclear talks on North Korea, she said. The talks -- last held in 2008 -- also involve the U.S. and Russia. North Korea said recently it had restored its nuclear reactor and has threatened to attack the U.S. with nuclear missiles.