'Martian' Holds at No. 1 at Box Office Over Slow Halloween
Anousha Sakoui and Jing Cao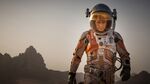 "The Martian," 20th Century Fox's space drama, kept the top spot in theaters over a slow Halloween weekend, outdrawing three debuting films before big holiday releases starting with "Spectre" on Nov. 6.
The Matt Damon sci-fi film generated $11.4 million at U.S. and Canadian cinemas, Rentrak Corp. said Sunday in an e-mailed statement. Weinstein Co.'s "Burnt," with Bradley Cooper, landed in fifth, while Warner Bros.' "Our Brand Is Crisis," featuring Sandra Bullock, opened in eighth place. Paramount's "Scouts Guide to the Zombie Apocalypse" was 12th.
Halloween can have a chilling effect on the box office when the festivities fall on the weekend. With families out trick-or-treating Saturday night and new movies getting tepid reviews, "The Martian" grabbed the crown for the fourth time since its Oct. 2 opening.
"The scariest thing to any studio executives is when Halloween falls on a weekend," especially on a Saturday, the biggest movie-going day of the week, said Paul Dergarabedian, a senior media analyst with Rentrak. "The calendar didn't cooperate and you got too many movies out there fragmenting the audience, so you had audiences going back to what they know."
Among the new releases, "Burnt" brought in $5 million, missing the $6 million estimate of BoxOffice.com. Cooper stars as Adam Jones, an ambitious Michelin-rated chef who wants to land his own kitchen and an elusive third star. Sienna Miller co-stars.
Poor Reviews
Critics largely didn't like the picture. It scored just 30 percent positive notices, according to Rottentomatoes.com, which aggregates reviews.
"Our Brand is Crisis" opened with weekend sales of $3.4 million, missing BoxOffice.com's $5 million estimate. Bullock stars as a U.S. political campaign strategist working in South America. Billy Bob Thornton co-stars. The film from the studio division of Time Warner Inc. also had trouble with critics, garnering just 32 percent positive reviews.
"The marketing campaigns were very minimal, and when you see that, it's pretty much written on the wall what these films are going to do," Jeff Bock, senior box office analyst at Exhibitor Relations Co., said. Even with the star power behind the movies, it's tough for them to compete with chef programs and shows like "House of Cards" in the "golden age of TV," he said.
Partial Boycott
"Scouts Guide," from Viacom Inc.'s Paramount unit, was the second of two movies to face a partial boycott by major theaters, along with the studio's earlier October release "Paranormal Activity."
Paramount wants to release the two films sooner than normal on home video, and AMC Entertainment Holdings Inc. was the only major chain that agreed to show it. "Scouts Guide" took in sales of $1.8 million, less than BoxOffice.com's estimate of $3 million.
The box office heats up next weekend with the release of "Spectre," the new James Bond film from Sony Corp.'s film division and Metro-Goldwyn-Mayer. Two weeks later the final chapter of "The Hunger Games" saga opens.
"Spectre," which has been already attracted wide audiences in international markets, should help theaters out of the lull, Bock said. He expects that the movie will reach $100 million in its opening in the U.S., which would be the first for the franchise.
Weekend sales for the top 10 films fell 23 percent to $57.9 million from a year earlier, Rentrak said. Sales for the year to date have increased 4.9 percent to $8.95 billion. The following table has U.S. movie box-office figures provided by studios to Rentrak. The amounts are based on actual ticket sales for Oct. 30 and Oct. 31 with estimates for Sunday.
 Movie              (mln)    Chg. Theaters  Theater   (mln)  Wks
================================================================
 1 Martian, The     $11.4    -28    3,218   $3,543   $182.8    5
 2 Goosebumps        10.2    -34    3,618    2,822     57.1    3
 3 Bridge Of Spies    8.1    -29    2,873    2,805     45.2    3
 4 Hotel Transyl      5.8    -34    2,962    1,968    156.0    6
 5 Burnt              5.0     --    3,003    1,678      5.0    1
 6 Last Witch Hunter  4.8    -56    3,082    1,541     18.6    2
 7 Paranormal         3.5    -57    1,530    2,255     13.6    2
 8 Our Brand          3.4     --    2,202    1,558      3.4    1
 9 Crimson Park       3.1    -45    2,112    1,470     27.7    3
10 Steve Jobs         2.6    -64    2,493    1,035     14.5    4



Top 10 Films Grosses



   This Week     Year Ago      Pct.
     (mln)         (mln)       Chg.
===================================
     $57.9         $74.8      -22.7



Year-to-date Revenue



     2015          2014
      YTD           YTD        Pct.
     (mln)         (mln)       Chg.
===================================
    $8,947        $8,528       +4.9

Source: Rentrak Corp.
Before it's here, it's on the Bloomberg Terminal.
LEARN MORE