Valeant's Goldman Connection: A CFO Schooled on Wall Street
By
Schiller was key architect behind drug company's acquisitions

He resigned after Allergan deal fell apart, remains on board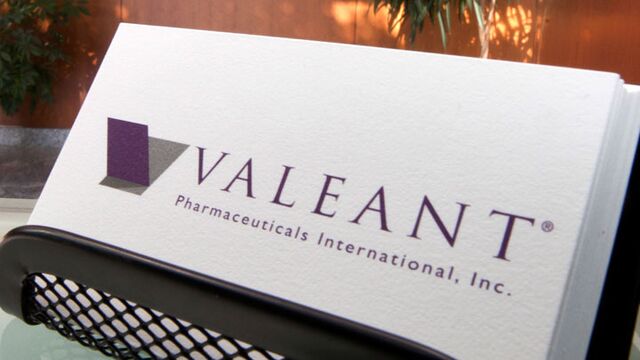 With an impeccable Wall Street pedigree -- 24 years at Goldman Sachs Group Inc., culminating in a top investment-banking job -- Howard Schiller left for what was fast becoming another palace of deal-making: Valeant Pharmaceuticals International Inc.
Schiller became a key architect of the drug company's breathtaking rise and, it turns out, of its sudden decline. As Valeant's chief financial officer, he helped build a deal machine that rewrote the rules of the pharmaceuticals industry. Along the way, he kept Wall Street close.

The story of Valeant and its lucrative ties to the financial industry is a familiar tale of mutual advantage and propitious timing. Jeff Ubben, of the hedge fund ValueAct Capital, helped bring in J. Michael Pearson from McKinsey & Co. to run Valeant. Pearson then helped lure Schiller from Goldman Sachs. And Goldman Sachs and other banks brought in investors, making many millions in fees in the process.
Today, as the drug company confronts questions about its accounting and business model, Schiller, 53, is no longer playing his old role. He announced in April that he would step down as CFO, at the time when Valeant was flying high. Goldman Sachs, a long-time adviser, lender and underwriter for Valeant, has handled neither debt nor equity financing since 2013, when it acted as sole underwriter of a $2 billion equity offering. Like many firms, Goldman Sachs has long maintained a "buy" rating on Valeant stock.
After batting away questions about his company's relationship with the specialty pharmacy Philidor RX Services LLC and, on a special conference call on Oct. 26, reiterating that Valeant had done nothing wrong, Pearson on Friday cut ties with Philidor. The move came a day after Bloomberg News reported that Philidor altered doctors' prescriptions to wring more reimbursements out of U.S. health insurers.
Through it all, Valeant's shares have continued to twitch -- up about 7 percent on Wednesday, down almost 5 percent on Thursday, to $111.50. That's down from $147 before a short-seller questioned Valeant's practices last week.
Biovail Purchase
However the Valeant story plays out, some analysts and investors are now wondering about the model Pearson and Schiller developed with Wall Street's help. Neither Valeant executives nor any of the banks that have worked with the company have been accused of wrongdoing.
Schiller, approached Monday night at his home in suburban New Jersey, declined to comment, as did Meghan Gavigan of Sard Verbinnen & Co., which is handling public relations for Valeant.
Schiller ran Goldman Sachs' health-care practice until 2009, when he became the chief operating officer of Goldman's investment bank. The next year, the bank advised Valeant on its breakout purchase of Biovail Corp.
After Schiller arrived at Valeant, in late 2011, the drug company orchestrated some of its most controversial deals. In the process, Valeant enriched its shareholders. Its market value soared from $14 billion to $70 billion during Schiller's tenure as CFO, as one Wall Street analyst after another placed "buy" on its stock.
Schiller, who remains a director and a consultant after stepping down from his finance post, has continued to take a lead in explaining Valeant's inner workings. In July, he testified before the U.S. Senate Committee on Investigations about Valeant's tax policy.
He was out front again during Monday's conference call: Valeant turned to him, rather than to a company officer, to walk investors through a big part of Valeant's presentation about its ties to Philidor.
Schiller told listeners that Valeant had launched a pilot prescription-fulfillment program through Philidor, and based on its success decided to strengthen its relationship with the specialty pharmacy. Then, last December, Valeant "acquired the option to acquire Philidor," he said.
That view changed today. "We have lost confidence in Philidor's ability to continue to operate in a manner that is acceptable to Valeant and the patients and doctors we serve," Pearson said in a statement.
Schiller Resignation
Under Pearson and Schiller, Valeant became a lucrative client for Wall Street. Goldman Sachs, for instance, was entitled to more than $15 million in fees for the Biovail deal. The firm also earned about $55 million for helping the drug maker raise $9.3 billion in debt and equity financing for the 2013 acquisition of Bausch & Lomb Inc., including its role as sole underwriter of a $2 billion stock sale, regulatory filings show.
Goldman Sachs Lending Partners served as the lead lender among a group of banks that provided a credit line and term loans to Valeant. Later, the same banking group agreed to raise as much as $8 billion in financing for Valeant's proposed acquisition of Allergan Inc. Goldman Sachs didn't participate in that group offering financing and stepped down as the banking group's administrative agent because it was involved in defending Allergan against the deal.
A Goldman Sachs spokesman, Michael DuVally, confirmed the details surrounding the Allergan proposal and that the bank is a lender to Valeant, declining to comment further.
Valeant's deal -- championed by William Ackman, the billionaire hedge fund manager -- fell apart after it was outbid by Actavis Plc. Schiller announced his resignation the following month.
It was an opportune exit. Under the terms of his departure, he stands to continue vesting in a stock and options package that made up the bulk of his $46 million in pay through 2014, according to company filings. Before stepping down, he sold $24 million of Valeant stock to pay taxes, including a portion when the shares were trading above $200, company filings show.
During the Monday call, Umer Raffat, an analyst at Evercore ISI, raised a question on many people's minds: Why did Schiller leave when he did?
"I feel like no one's satisfied, and I keep getting that question from many investors in many meetings. So, would appreciate all your input there," Raffat said.
Citron Report
Schiller reiterated that after two careers over 30 years, he wanted to "do some things on my own."
He continued: "The timing was right. And again, just to be absolutely crystal clear, if I had –- and which I'm guessing, it could be an undertone of the question, if I had any concerns whatsoever about Valeant or Mike I would not have stayed on the board. It's as simple as that."
Pearson quickly followed up. He said Schiller had called him shortly after the stock-commentary site Citron Research, run by short-seller Andrew Left, sent Valeant's stock into a tailspin with a report questioning the company's accounting and its relationship with Philidor, the pharmacy. Pearson has since called for authorities to investigate Citron.
"When the Citron report hit and all hell broke loose, the first call I received was from Howard," Pearson said. "I think he was here an hour later, and I'm not sure he left the building since. So, Howard is the lowest paid board member per hour."