U.S. to Send First Troops to Syria to Combat Islamic State
by and
Fewer than 50 special operations forces will help Sunni rebels

Commandos won't be take on a combat mission, White House says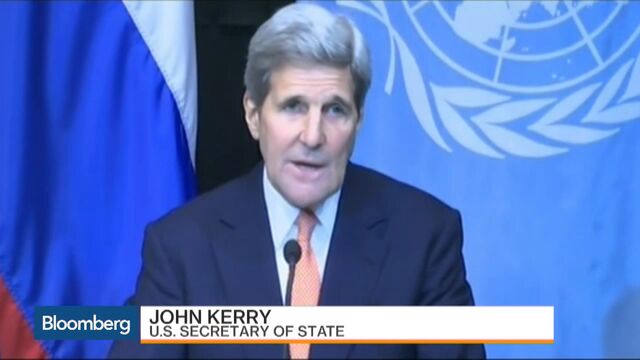 The Obama administration is deploying several dozen special operations forces inside Syria for the first time in a significant escalation of the fight against the radical Islamic State group.
Fewer than 50 U.S. military personnel will be based in northeast Syria to work with Sunni Arab and Kurdish forces, according to a U.S. defense official. Their mission is to train and assist the local fighters battling Islamic State, the official said, requesting anonymity to discuss details of the deployment. A second defense official told reporters at the Pentagon that the commandos will arrive in Syria within a month and stay for weeks or months, not permanently.
At the same time, the U.S. is bolstering forces stationed at Incirlik air base in Turkey, adding A-10 ground attack planes and F-15 fighters for the air campaign against Islamic State, the officials said.
While the White House insisted the deployment to Syria wasn't a change in strategy, it represents a departure from President Barack Obama's previous assurances that the U.S. wouldn't commit U.S. troops to ground combat against Islamic State.
"These forces do not have a combat mission," White House press secretary Josh Earnest said Friday, although he acknowledged "they're going to be taking risks" in a "dangerous part of the world."
Battlefield Balance
He said that the deployment won't fundamentally shift the balance on the battlefield. He also wouldn't rule out a further escalation.
"There is no military solution to the problems plaguing Iraq and Syria," he said.
The new action represents an escalation of the U.S. fight against the terrorist group in Syria, where Russia has begun its own air campaign against rebels fighting the regime of President Bashar al-Assad. U.S. officials have complained that the Russians have largely targeted moderate rebel forces instead of Islamic State.
The White House described the risk that U.S. personnel could come under attack during Russian military efforts in Syria as minimal, but didn't unequivocally rule out the possibility.
Obama's Pledge
Obama has repeatedly said that local forces must lead the fight against Islamic State, with training and assistance from the U.S. In a speech to the nation on Sept. 10, 2014, Obama said the fight against Islamic State "will not involve American combat troops fighting on foreign soil."
The special operations forces in Syria will coordinate with local ground forces as the U.S.-led coalition continues attacking Islamic State from the air in Syria and in neighboring Iraq. Americans already working as advisers to Iraqi troops.
The new contingent in Syria will assess how to improve the rebels' ability to call in allied airstrikes and whether the forces are trustworthy enough to be supplied with small arms by the U.S., according to the defense official who briefed reporters. The U.S. commandos won't call in airstrikes themselves and won't participate in raids against Islamic State targets, the official said.
The U.S. will also seek to establish a special operations task force with the Iraqi government and increase assistance to Jordan and Lebanon to fight Islamic State, the other defense official said.
Diplomatic Efforts
As the expanded military effort was being announced at the White House, Secretary of State John Kerry was briefing reporters in Vienna at the end of two days of talks aimed at finding a diplomatic solution for the civil war in Syria.
"We are intensifying our counter-Daesh campaign and we are intensifying our diplomatic efforts in order to end the conflict, and we believe these steps are mutually reinforcing," Kerry said, employing an Arabic acronym for Islamic State.
Syria's War: A Guide to Who Wants What
Participants in the Vienna talks, including Assad's allies Russia and Iran, agreed to meet again within two weeks and set out principles including that any solution must maintain Syria's unity, territorial integrity and state institutions. The group also called for the United Nations to convene talks with the Syrian government and opposition on a political process that could lead to a cease-fire.
While Kerry said the U.S. and its allies haven't changed their position that Assad must go, Russian Foreign Minister Sergei Lavrov said there's no agreement on the Syrian president's future.
Congressional Critics
Some congressional Republicans, who have been critical of Obama's approach to battling Islamic State, said the administration still hasn't come up with a coherent plan in the region. House Majority Leader Kevin McCarthy, a California Republican, called the deployment "yet another tactical move in the absence of a comprehensive strategy for Iraq, Syria, and the broader Middle East."
The U.S. fight against Islamic State has been hampered in both Syria and Iraq by the absence of sufficient ground forces capable of seizing and holding significant territory with the support of coalition combat air, said Fred Hof, a former State Department adviser on Syria.
"Deploying a handful of U.S. special operations forces to Syria will not change this situation significantly," Hof said. "It is a Band-Aid of sorts, although a potentially useful one."  
U.S. Commitment
In addition to helping local troops fight Islamic State, Hof said the special forces may have another payoff: By putting U.S. personnel on the ground in Syria, "Washington may be able to make a credible pitch to regional powers to provide the ground-combat components that can sweep ISIL from Syria, thereby tilting the fight in Iraq in a favorable direction," Hof said, using an acronym for the terrorist group.
Obama instructed his advisers to examine new ways to confront Islamic State after a largely failed attempt to train and equip moderate rebels in Syria. The U.S. is moving away from tactics that have proven to be ineffective, Earnest said.
Defense Secretary Ashton Carter told the Senate Armed Services Committee on Tuesday that the U.S. was prepared to conduct "opportunistic attacks" against Islamic State forces in Syria, including "direct action on the ground."
A member of a U.S. special operations team was killed this month in a raid on an Islamic State-controlled prison in Iraq that freed about 70 hostages. In May, U.S. commandos killed a senior Islamic State commander in a raid into Syria.
Citing the operation in which the soldier was killed, Carter told reporters this week, "of course that's combat." While it's clear that there are U.S. "boots on the ground" in the fight against Islamic State, he said, the overall strategy is to support local forces "rather than substitute for them."
Before it's here, it's on the Bloomberg Terminal.
LEARN MORE