Turkish Opposition Papers Turned Pro-Government Before Poll
by
Bugun, Millet follow front page model of pro-government media

Papers linked to Erdogan foe Fethullah Gulen taken over Monday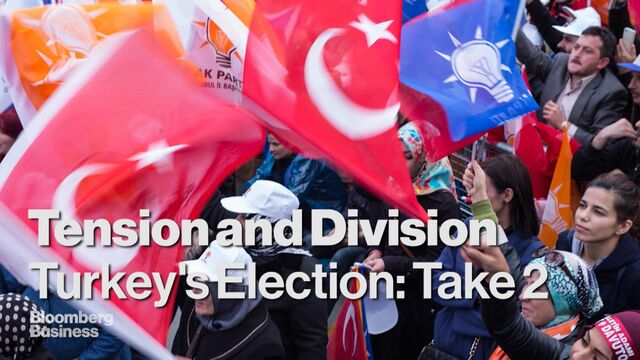 Two Turkish newspapers known recently for fierce opposition to the policies of President Recep Tayyip Erdogan and the nation's ruling administration have turned pro-government overnight after their management was seized by a prosecutor earlier this week.
The Millet and Bugun newspapers both ran stories lauding Erdogan on Friday, a day after Bugun ran a front page report saying the decision to appoint a trustee to manage the group that owns the paper was "confiscation." Video footage on Thursday had shown the court-appointed trustee in the media group's newsroom under police occupation, berating newspaper staff and firing reporters who disagreed with him.
The redesigned newspapers showcased their reinvention on Friday by following a formulaic front page model of Turkey's pro-government press: a photo of Erdogan above the fold, and AK Party leader and acting Prime Minister Ahmet Davutoglu below it. On Thursday, the two seized papers joined pro-government stalwarts Sabah, Aksam, Yeni Safak, Turkiye and Star with that design.
"This is an operation meant to silence free media," Erhan Basyurt, Bugun's editor-in-chief, said by phone, adding that he hadn't received written notification that he'd been dismissed and would try to enter the newspaper's offices later Friday. "It's obvious from today's front page and other stories in Bugun that the paper is confiscated."
Turkey holds parliamentary elections on Sunday, a re-run of the inconclusive June vote in which the AK Party founded by Erdogan lost its parliamentary majority for the first time since it came to power in 2002. Most opinion polls showed little change from the June vote before the blackout on poll results took effect 10 days before the election.
Erdogan Foes
Management at Koza-Ipek Holding, which owns both papers, was seized after a prosecutor said the group was laundering money to fund the Fethullah Gulen religious movement. The president says Gulen's followers have infiltrated state institutions including the police force and judiciary, and tried to overthrow him with fabricated charges of wrongdoing, supported by their media operations.
"According to the court documents, the trustees are appointed to protect the company's financial assets," Bugun newspaper's Basyurt said. "However, the first thing they did was to turn off two TV stations broadcasting from satellite and turn Bugun and Millet into pro-government newspapers. People appointed to the papers are either current or former members of the AKP."
Koza Ipek was accused of classifying donations as earnings from gold production and using those funds to finance Gulen, Erdogan's one-time ally who was declared leader of a terrorist organization after the government said his followers had attempted a "coup" by starting an investigation into corruption in Erdogan's inner circle. A slew of corruption investigations became public in 2013, after which Erdogan backed a purge that saw thousands of people at government agencies fired for alleged affiliation with Gulen.
Bugun and Millet are the 17th and 26th largest Turkish papers by circulation, at 104,000 issues and 47,000 issues daily, respectively, according to the most recent figures from Medyatava. That compares with 615,000 issues for Zaman, the Gulenist paper with the nation's highest circulation, and 365,000 for Hurriyet, the centerpiece of Dogan media group publications, also considered by the government to be opposition.
Turkey's ranking on freedom of the press has deteriorated in the course of Erdogan's 13 years in power. The nation ranked 149th of 180 countries on this year's Reporters Without Borders Press Freedom Index, compared with 99th of 139 countries in 2002.
The AKP's failure in the June vote is the direct result of the electoral success of the pro-Kurdish HDP, which got more than 13 percent of the votes and 80 lawmakers in Turkey's 550-seat parliament. The U.S. Embassy denied a report in the pro-government Star newspaper on Friday that the HDP's election strategy was designed at a meeting at the U.S. consulate in Istanbul.
"The United States firmly supports freedom of the press and freedom of expression, even the freedom to print fabrications and false claims," the U.S. Embassy said in a statement on its website. "But, Star's readers need to be told that today's report is made up of nothing more than lies and dark insinuations, and that the United States remains as ever a committed ally to Turkey and a friend to the Turkish people."
Before it's here, it's on the Bloomberg Terminal.
LEARN MORE