Steelmaking's Demise at Place of Its Birth Signals Wider Crisis
by
European producers have been cutting output amid price rout

Cheap Chinese exports, high costs have hurt U.K. companies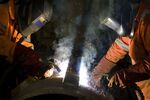 A flurry of plant closures and insolvencies show it's making less economic sense to produce steel in Britain, but it's a crisis that's hurting the whole of Europe and not just the country where the industry was born.
Once the hub of the steelmaking world, northern England lost its last blast furnace this month as Tata Steel Ltd. shut the Redcar plant and announced it was shedding another 1,200 jobs. In addition, 16 steel and engineering companies making up Caparo Industries Plc, owned by House of Lords member Swraj Paul, went into administration.
Rising energy costs and a surge of cheaper supplies from China have compounded a decades-long demise of the industry across the continent. While the slump has recently put the focus on the U.K., the pain will likely spread. A Chinese steel executive on Wednesday said demand is collapsing at home, forcing more cut-price exports onto the global market.
"China's steel demand evaporated at unprecedented speed as the nation's economic growth slowed," said Zhu Jimin, deputy head of the China Iron & Steel Association. "As demand quickly contracted, steel mills are lowering prices in competition to get contracts."

Bloomberg Intelligence estimates Chinese steel shipments overseas will exceed 100 million tons this year, more than Europe's top four producers combined make.
"We seek fair competition," Tor Farquhar, group human resources director for Tata Steel Europe, told a U.K. government select committee of lawmakers on Tuesday. "The margins are very small so any disadvantage is magnified."
Industry Decline
European steel has been in retreat for a while. ArcelorMittal, the world's biggest producer, in the past few years has closed plants in Belgium and France, lowered production from Germany to Spain and said it may shutter facilities in eastern Europe. Steel employment in Europe, which started falling before China's exports surged, is down 20 percent since the financial crisis, while demand in the region remains 25 percent below pre-crisis levels.
Right now, the U.K. is feeling the brunt of lower prices. Tata announced 1,200 job cuts on Oct. 20, the day after the Caparo companies were placed into administration. The last Redcar steel plant in England's north east, where 120 blast furnaces once operated, closed after no buyer was found for the loss-making operation.
Far Cry
It's a far cry from the metal-working heyday, when the U.K. produced about 40 percent of global supply by 1875. By the start of World War I, it had been eclipsed by the U.S. and was soon overtaken by Germany. In the 1970s and 1980s, inefficient and outdated plants led to production falling 64 percent to less than 10 million metric tons, and the country's output slipped below France, Italy and Belgium.
Companies in Britain are paying more for power needed to turn iron ore into steel than elsewhere in Europe, government data show. Electricity costs for extra-large users, including taxes, have risen 36 percent in the U.K. since 2008. That compares with a 22 percent gain in Germany and an 8.1 percent decline in France. Tata says carbon levies make energy costs borne by plants as much as 50 percent higher than those faced in mainland Europe.

The stronger pound, which reached a seven-year high versus the euro in July, has made U.K. production less competitive and raised costs for other counties buying the supply.
Still, U.K. production, although lower than elsewhere, has fared better than in many European countries, according to the World Steel Association. Output dropped 14 percent from 2004 to 2013, less than in France, Spain and Italy. German supply fell 8 percent.

The European steel industry has an annual turnover of about 170 billion euros ($187 billion) and directly employs about 330,000 people, producing on average 170 million tons a year. There are more than 500 steel production sites across the European Union.
Before it's here, it's on the Bloomberg Terminal.
LEARN MORE