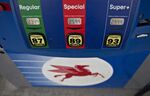 Results of two consumer surveys suggest expectations for inflation in the medium and long term are slipping.
A monthly poll conducted by the University of Michigan showed U.S. households projected annual inflation will average 2.5 percent 5 years to 10 years from now, according to data released Friday. That matches the lowest on record in data going back to 1979.

Federal Reserve officials kept their benchmark interest rate near zero this week, right where it has been since Dec. 2008. But they suggested in a statement that the first increase in nearly a decade could come when they next meet in December.
The statement, published Wednesday in Washington, repeated that policy makers need to be "reasonably confident that inflation will move back to its 2 percent objective over the medium term" before raising rates.
Actual inflation has been depressed by a large drop in oil prices and appreciation in the value of the U.S. dollar against other currencies that has made imported goods less expensive. The U.S. central bank has missed its 2 percent price goal for more than three years.
Core inflation, which strips out the volatile food and energy components, is also low. A Commerce Department report published Friday showed the Fed's preferred measure, based on personal consumption expenditures, rose 1.3 percent in the 12 months through September, right in line with the average recorded over the first eight months of this year.
In other words, inflation is stable at a low level.
Most Fed officials have voiced confidence that as the labor market continues to improve, inflation will rise back to the central bank's 2 percent target. Importantly, Fed Chair Janet Yellen and others have said that for this reason, they don't need to see actual inflation begin to move up again before they begin raising rates.
However, much of their faith is also predicated on the stability of expectations.
"Inflation expectations have been so well anchored over in recent years, that that seems to be the more powerful determinant of what actual inflation actually is," New York Fed President William C. Dudley said during a panel discussion at the Brookings Institution in Washington on Oct. 15.
A survey of consumers conducted by the New York Fed indicated expected inflation was sliding as well. Results released earlier this month showed the median forecast for annual inflation three years from now was 2.8 percent, marking the lowest reading in data going back to June 2013.
Survey-based inflation expectations measures can run higher than the government's actual price data because they don't take into account quality improvements in goods and services.  Fed officials pay close attention to the trend in survey and market-based measures -- up or down.
The statement released by Fed policy makers this week noted that "survey-based measures of longer-term inflation expectations have remained stable." The latest readings don't offer much reassurance.
Before it's here, it's on the Bloomberg Terminal.
LEARN MORE