Senators Take On Law Schools for Failing Students
Some JD programs are leaving students in debt, without hope of a job.
By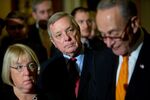 Law schools just made some new enemies. This week, lawmakers from both parties sharply criticized U.S. law schools for leaving students with overwhelming debt and degrees that may not get them jobs.