Second Teenager Arrested in Wake of TalkTalk Hacking Attack
by
A 16-year-old boy arrested after search at west London address

TalkTalk was hit by a `significant and sustained' attack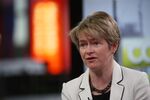 London police arrested a 16-year-old in connection with a hacking attack on British Internet provider TalkTalk Telecom Plc, the second teenager to be caught up in the probe.
The boy was arrested on suspicion of offenses under the Computer Misuse Act after a search of a home in the west London neighborhood of Feltham, the Metropolitan Police said in a statement Friday. Officers from the Metropolitan Police Cyber Crime Unit also searched an address in Liverpool, England.
The scale of the attack is far smaller than initially thought with fewer than 21,000 unique bank account numbers and sort codes accessed as well as less than 28,000 obscured credit and debit cards details obtained, TalkTalk said in a separate statement.
The arrest follows the detention of a 15-year-old in Northern Ireland's County Antrim on Oct. 26. Both boys have been released on bail, according to authorities.
TalkTalk, a provider of broadband and TV packages, was hit last week by a "significant and sustained" attack on its website and later received a ransom demand from attackers who wanted payment in exchange for relinquishing customer data.
The company's shares gained as much as 7.2 percent after disclosing the extent of the attack and were up 3.3 percent to 249 pence as of 1:56 p.m. in London. Fewer than 15,000 customer birth dates and less than 1.2 million e-mail addresses, names and phone numbers were accessed, according to TalkTalk.
"The credit and debit card details cannot be used for financial transactions," TalkTalk said in the statement. "We have shared the affected bank details with the major U.K. banks so they can take their usual actions to protect customers' accounts in the highly unlikely event that a criminal attempts to defraud them."
Before it's here, it's on the Bloomberg Terminal.
LEARN MORE