Portuguese President Asks for Stability as Coelho Is Sworn In
By
Socialists, Left Bloc, Communists may block new government

Opposition leader wants to form an alternative government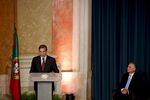 Portuguese President Anibal Cavaco Silva warned against instability at the swearing-in of a new government that may be blocked by opposition parties, which now hold a majority of seats in parliament.
"Throughout our history we've only had true economic and social progress when we had political stability," Silva said in Lisbon on Friday. "Without political stability Portugal will become an ungovernable country. And, evidently, nobody trusts an ungovernable country."
Social Democratic Prime Minister Pedro Passos Coelho on Oct. 4 won the most seats in the first general election since 2011, though his coalition fell short of the majority it had in the past four years when Portugal completed a bailout program. Socialist opposition leader Antonio Costa last week said he could form a stable government backed by a majority in parliament including the Left Bloc and the Communist Party that would be an alternative to a new term under Coelho.
The Socialists have said they will block the new government if they can offer a stable alternative. Costa will conclude an agreement with the Left Bloc and the Communists, the Socialist Party said on Oct. 23. The Left Bloc has said it wants to restructure the country's debt and the Communists have said Portugal should prepare to exit the euro.
The president reiterated on Friday that no stable government solution that would be an alternative to the new Coelho government has been presented. The new government must respect Portugal's European Union commitments, he said.
Minority Governments
Socialist leader Costa, 54, who has proposed narrowing the deficit slightly slower than Coelho, says he would comply with EU commitments. Since losing the 2011 election after requesting the bailout, the Socialists voted alongside the ruling coalition on policies including the European Stability Mechanism treaty.
Premier Coelho, 51, on Friday made a call for cooperation among all political forces. He reaffirmed a goal of narrowing the budget deficit to less than 3 percent of output.
Portugal is no stranger to forming minority governments, though they tend to be short-lived. It's more than 15 years since Socialist leader Antonio Guterres led the only minority government in Portugal to survive a full term since 1974, when a four-decade dictatorship ended.
Parliament will discuss the new government's program from Nov. 9, and the debate can't last more than three days. The government will fall if its program is rejected by a majority in parliament and the president, who has the power to name prime ministers, would then decide what happens. Parliament can't be dissolved less than six months after it's elected, according to the constitution.
President Silva, 76, will step down in January. He was re-elected for his second five-year term in 2011, taking 53 percent of the vote. Silva served as a Social Democratic prime minister from 1985 to 1995 and presided over the 1992 signing of the Maastricht Treaty, which cleared the way for the euro common currency.