Norway Ousts Telenor Chairman After VimpelCom Disclosures
by and
Telenor acquired about a third of Russia's VimpelCom in 1999

Norwegian government owns about 54% of Nordic carrier Telenor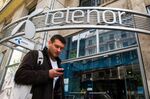 Norway ousted Telenor ASA Chairman Svein Aaser, citing a lack of confidence in his leadership after the Industry Ministry received more information about VimpelCom Ltd.'s alleged bribes in Uzbekistan.
Aaser, 69, who has served as chairman since 2012, told the carrier's board he would resign immediately, Telenor said Friday. The Norwegian government owns 54 percent of the company, which in turn owns 33 percent of Russian carrier VimpelCom. Telenor said Oct. 5 it plans to sell its 20 billion-krone ($2.3 billion) stake to focus on market such as the Nordic region.
"I no longer have confidence in Telenor's chairman," Industry Minister Monica Maeland said in a statement. "I have received new information about the case. This is information that both I and parliament's constitution and control committee should have received earlier."
Telenor and the government both declined to say what new information had been uncovered, citing ongoing investigation in several countries. A representative for VimpelCom, which is controlled by billionaire Mikhail Fridman, couldn't immediately be reached to comment.
Aaser, who has also headed the boards of Det Norske Oljeselskap ASA and Statkraft AS, was chief executive officer of what is now known as DNB ASA from 1998 until 2007, steering Norway's biggest bank through a series of mergers and acquisitions. The holder of one of the Nordic country's most prolific corporate CVs, he was also president of Norway's peak business lobby, the Confederation of Norwegian Enterprise, and led the board of the 2011 Nordic World Ski Championships in Oslo.
Telenor bought about a third of VimpelCom in 1999 to expand beyond the Nordic region and has been under pressure since Dutch authorities raided VimpelCom's Amsterdam headquarters in March 2014. Last year, Telenor's then CEO Jon Fredrik Baksaas left VimpelCom's board after Swedish authorities started a probe into whether the carrier paid bribes in Uzbekistan.
Shares in Telenor slipped 2.3 percent to 161.1 kroner at 2:39 p.m. in Oslo, valuing the company at 242 billion kroner. VimpelCom fell 2.7 percent to $3.76 in New York.
Graft Allegations
Earlier this month, Telenor decided to give up on its investment in Russia's third-biggest mobile-phone company after 16 years. The allegations of graft in Uzbekistan led Norway's government to summon Aaser to explain the payments in November last year. That's not the first time that the state, which owns stakes in all four of the country's largest listed companies, has had to deal with such issues. In a country were business and government are often closely linked, Aaser's rapid fall from grace has precedents.
In 2003, Statoil ASA's chairman and CEO quit after allegations of corruption in Iran for which they were later cleared while four members of Yara International ASA's former management team were indicted in January for gross corruption in Libya and India after the fertilizer maker notified authorities in 2011.
"The Ministry and I have had different views on the handling of the VimpelCom issue," Aaser said. "I have informed the Minister of Trade and Industry, Monica Maeland, about my decision. Beyond today's statement, I have no further comments."
Swedish carrier TeliaSonera AB is also under investigation for allegedly paying bribes in Uzbekistan. The Swedish government-controlled company overhauled its leadership after similar allegations surfaced in 2012. Then Chairman Anders Narvinger and former CEO Lars Nyberg were among a handful who left their positions early. Telia has since said it would exit former Soviet countries and Asia to focus on the Nordic region.
Takilant Ltd., a company with ties to President Islam Karimov, held a minority stake in VimpelCom's business in Uzbekistan from 2007 to 2009. Swedish prosecutors have said that payments totaling $55 million in 2007 and 2011 from VimpelCom to Takilant are suspected to be "bribes" to Uzbek authorities.
Before it's here, it's on the Bloomberg Terminal.
LEARN MORE