Morgan Stanley: The Grinch Could Ruin Christmas for Most Retailers
Consumers may have extra money, but they're not spending it.
by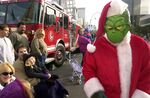 Morgan Stanley analysts aren't predicting a lot of cheer for retailers this holiday season. 
The bank sees holiday sales growth slowing this year despite an increase in the financial health of many consumers, according to analysts led by Kimberly Greenberger. In a note titled "The grinch could steal Christmas," they argue that while consumers will have plenty of extra pocket money this season, that won't necessarily translate into extra spending.
We expect record levels of liquidity funded by income versus debt, along with further strengthening driven by additional energy savings, home price appreciation as well as the improved buying power of the dollar to continue to support consumer fundamentals. However, consistent with the strong though slowing pace of job gains as well as a rise in stock market volatility, we expect lower rates of spending growth in the fourth quarter.
In fact, the bank thinks we'll likely see 1.2 percent growth in comparative sales this year, down from 2.8 percent the previous year.

The analysts highlight three key reasons retailers might be getting coal in their collective stockings.
The first is that consumers just haven't been spending much on apparel, bar sportswear. The second is that year-over-year comparisons are particularly tough for sales and gross margins in the fourth quarter, and the third is that expectations of a particularly warm winter this year could help to limit seasonal sales.
Here's a look at the tough comparisons Morgan Stanley is talking about: 

Despite the headwinds, there are five companies Morgan Stanley thinks could be pleasantly surprised. 
L Brands: "Superior execution and continued momentum at both [Victoria's Secret] and [Bath and Body Works] give us confidence in L Brands' ability to sustain consistent, strong comp momentum through the Holiday season, when LB typically earns 50-55 percent of annual income."

Lululemon Athletica: "We expect LULU's sector best top-line momentum to continue this holiday, as we forecast +5 percent/+12 percent comp and sales growth. Several factors support our conviction in LULU, namely: (1) incremental design initiatives, including the pant wall and tank wall relaunch, helping add newness and expanding the product assortment."

Ross Stores: "Over the past five Holiday periods ROST has delivered solid earnings results, leading to an average share price increase of circa 1.2 percent following fourth quarter 2010 to fourth quarter 2014 earnings."

Nike: "Key factors driving Nike should be reconfirmed during the holiday season. Strong futures growth acceleration (17 percent from 13 percent), particularly in North America (15 percent from 13 percent), underscores the brand's momentum in wholesale."

Best Buy: "[T]here are numerous product drivers to help BBY this holiday season, including 4K TVs, mobile phones, appliances, and wearables."

 The good news in all of this for the consumer? Expect those holiday promotions to continue. 
Before it's here, it's on the Bloomberg Terminal.
LEARN MORE