IndiGo Operator Said to Price $459 Million IPO at Top End
by and
Investors show renewed interest in India amid Modi's reforms

IPO makes IndiGo third-biggest budget carrier in Asia Pacific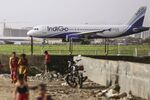 InterGlobe Aviation Ltd. , which runs India's biggest airline IndiGo, and existing investors raised about 30 billion rupees ($460 million) after pricing its initial public offering at the top end of a marketed range, people with knowledge of the matter said.
InterGlobe priced its IPO shares at 765 rupees each after earlier offering the stock as low as 700 rupees, said the people, who asked not to be identified as the information is private. Institutional investors bid for 17.8 times the shares reserved for them, while individual investors bid for 92 percent of their stock allocation as of 8:30 p.m. in Mumbai Thursday, the third and final day of the sale, according to National Stock Exchange figures. 
The offering, the first by an Indian airline since 2006, will allow IndiGo to build its fleet and cut debt in one of the world's burgeoning aviation markets. The demand reflects renewed investor interest in the world's fastest-growing major economy , where the benchmark S&P BSE Sensex Index has fallen 9.6 percent from a five-year high in January, and as Prime Minister Narendra Modi pitches India as a safe and lucrative destination for foreign money.
The sale values InterGlobe at $4.2 billion, making it the third-largest low-cost airline in Asia after less than a decade of flying. The shares are likely to start trading around Nov. 10, InterGlobe said in documents filed earlier with India's securities regulator.
Trading Valuations
Based on 765 rupees a share, IndiGo, the only Indian airline to have made a profit in each of the past seven years, will trade at 21.3 times trailing earnings. That's less than the 33.72 times for Spring Airlines Co. and 68.94 times for Juneyao Airlines Co., low-cost carriers which listed in China earlier this year. Jet Airways India Ltd. and SpiceJet Ltd., the other two listed Indian carriers, are losing money.
Looking at another key metric for airline stocks, IndiGo will have an enterprise value-to-sales ratio of 2.1, calculated using a share price of 765 rupees and earnings in the year ended March 31, according to Mumbai-based IIFL India Private Clients. Jet Airways and SpiceJet both have a ratio of 0.7, the brokerage said in an Oct. 26 note.
Citigroup Inc., JPMorgan Chase & Co. and Morgan Stanley led the offering. Barclays Plc, Kotak Mahindra Bank Ltd. and UBS Group AG also worked on the IPO. Sakshi Batra, a spokeswoman for InterGlobe, said by e-mail she couldn't immediately comment on the pricing of the shares.
Plane Orders

IndiGo flies to 34 cities in India and five overseas. It had a 37 percent share of domestic air traffic during the first nine months of the year, according to regulatory data, compared to Jet Airways at 23 percent and state-run Air India Ltd. at 17 percent.
In August, IndiGo firmed up an order to buy as many as 250 Airbus Group A320neo single-aisle jets for $26.6 billion, the European planemaker's biggest-ever by number of planes.
Founded by former US Airways Chief Executive Officer Rakesh Gangwal and former travel agent Rahul Bhatia, IndiGo uses the sale-and-leaseback model, in which it sells jets to lessors, flies them for six years and then hands them back so its fleet remains fresh.
Airbus Planes
IndiGo began flying in 2006, a year after placing a $6 billion order for 100 Airbus A320 aircraft. It followed up with an order for 180 Airbus planes valued at $15 billion in January 2011, at the time the biggest order in commercial aviation history.
Provincial taxes make jet fuel in India the most expensive in Asia, and below-cost fares further stress carriers' bottom lines. India is the cheapest country in which to fly, according to a study by GoEuro.com, with passengers paying about $10.36 for every 100 kilometers (62 miles), compared with $138.90 in Finland.
Singapore Airlines Ltd. and AirAsia Bhd. are among foreign carriers that have started local units in recent years, seeking to tap a market where an expanding middle class offers growth opportunities. Indian airlines will need 1,740 new planes valued at $240 billion over the next 20 years, according to Boeing Co.
Before it's here, it's on the Bloomberg Terminal.
LEARN MORE