Four Contenders and One Wild Card: A Guide to Turkey's Election
by
Erdogan, AK Party seek to regain majority held for 12 years

Secular, nationalist, Kurdish parties are main challengers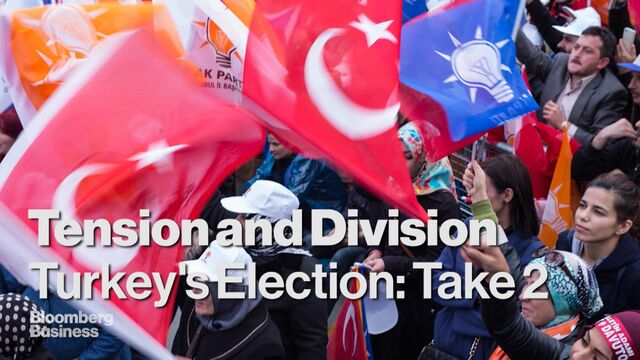 Turkey is holding its second election in five months on Nov. 1 after an inconclusive June ballot and failed coalition talks.
The political backdrop has darkened. The war with Kurdish militants is back on; suicide attacks in Ankara and eastern Turkey, by suspected Islamists, killed more than 130 people; and there's growing concern that the war in neighboring Syria is spilling over.
The violence has deepened polarization among politicians and roiled markets. Yet opinion polls suggest the same parties that failed to reach a deal after the last election will have to try again this time, with none likely to win a majority. The following is an overview of the main players.
President Recep Tayyip Erdogan

Erdogan's position isn't at stake on Sunday, but in some ways he's the election's central figure. Although his new job as president requires him to be above party politics, he's been actively campaigning for the governing AK Party, which he founded and led for more than a decade.
Erdogan wants to introduce a formal presidential system to concentrate power in his office, and is battling to defend his inner circle against corruption investigations that opposition parties promise to reopen. To achieve those goals, and remain Turkey's dominant leader, he needs his former party to regain its majority.
Justice and Development Party (AK Party)

The AK Party has run the country since 2002 and remains the only realistic contender to form a single-party administration. It has roots in political Islam and is now headed by Erdogan's handpicked successor as premier, Ahmet Davutoglu, whose leadership may be at risk if he fails to regain the majority bequeathed to him.
In government, the AK Party has raised the profile of religion and curbed the powers of an army that used to enforce Turkey's secular system. It also campaigns on a record of economic growth averaging about 5 percent a year. Opponents focus on allegations of corruption and increasingly authoritarian rule.
Republican People's Party (CHP)

The party established by modern Turkey's founder Mustafa Kemal Ataturk has only rarely been in government in recent decades, but has held on to its status as the main opposition to Erdogan and the AK Party. Leader Kemal Kilicdaroglu campaigns on his reputation for personal honesty, but has struggled to win support beyond the party's base among more educated and wealthier Turks.
The CHP has indicated it's ready to form a coalition with the AK Party this time round, to save Turkey from the prospect of serial inconclusive elections. Yet sharp differences between the parties would make such an arrangement fragile from the start.
The CHP opposes Erdogan and Davutoglu's policy of pursuing the overthrow of President Bashar al-Assad in Syria, and wants to reverse reforms it says have made the education system less secular. On the economy, the CHP wants to broaden the tax base, and has traditionally supported a strong state role and protection for workers.
Nationalist Movement Party (MHP)

The signature issue of the ultra-nationalist party led by Devlet Bahceli is opposition to the talks with separatist Kurdish militants, begun by Erdogan three years ago in a bid to end three decades of war.
While that peace process has foundered anyway, the MHP accuses Erdogan and the AK Party of encouraging the rebels and laying the ground for the recent violence. Its strongest support is in poor areas of central Turkey, where many have lost family members in the Kurdish war. While those conservative voters have much in common with AK Party supporters, Bahceli -- whose last spell in government saw Turkey plunge into economic crisis in 2001 -- has shown little appetite for joining a coalition. He's been careful not to rule it out though, except if it involved joining forces with Kurds.
Peoples' Democratic Party (HDP)

The pro-Kurdish movement, jointly led by Selahattin Demirtas and Figen Yuksekdag, was the surprise package of the June election. It gained a record 13 percent of votes, won seats in parliament for the first time, swept the largely Kurdish southeast, and lured many ethnic Turks with its vow to block Erdogan's presidential ambitions, as well as liberal policies on issues such as gay rights and gender equality.
The HDP's success was the main reason why the AK Party lost its majority. Since June, Erdogan and the government have redoubled their efforts to blacken the party by accusing it of links with the armed Kurdish militants. The resumption of the Kurdish war has brought a tide of nationalist rhetoric, the party's activists have been targeted with police raids, and its leaders have been denied airtime.
Polls suggest that support for the HDP is holding up and it will again pass the 10 percent threshold required to win seats. It's unlikely to enter government: the refusal of the nationalists to consider any deal with Kurds rules out a grand coalition of the three opposition parties, which might otherwise have commanded a majority.
Before it's here, it's on the Bloomberg Terminal.
LEARN MORE