Draghi Touch Less Than Magic With Europe Stocks for Long Run
by and
Euro-area shares have risen as much as those in broader region

Analysts have cut profit-growth forecasts on China concerns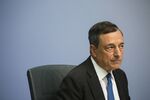 Mario Draghi can move markets. The question is, can he move them for long?
The European Central Bank president's reputation with stock bulls has been burnished again in October, with his comments on stimulus fueling the biggest monthly jump in six years. Looked at from a longer lens, however, Draghi's omnipotence is harder to see.
The MSCI EMU Index, which tracks 238 companies in the euro area, has advanced 16 percent in the past two years. That's almost exactly the same return as a gauge that encompasses shares both in and outside of the currency union. U.S. and Japanese equities have rallied more.

While economic data in the euro area have been beating estimates, investors remain skeptical that the recovery is trickling through to companies. With China's slowdown raising concerns over prospects for the region's exporters, analysts have cut their forecasts for earnings growth this year.
"You have the honeymoon period, but then the outperformance hasn't been so marked because you need to have the delivery of profits," said Rupert Welchman, a fund manager who helps oversee 1 billion euros ($1.1 billion) of in European equities at Union Bancaire Privee in London. "That's something that we've struggled with seeing consistently in the euro zone."
Profits at Euro Stoxx 50 Index companies have fallen for three of the past four years. While the gauge has rallied 10 percent this month, its biggest quarterly slump in four years briefly took it into a bear market that it's still recovering from. The measure closed 11 percent below its April high yesterday and was little changed today. 
When Draghi pledged in 2012 to do whatever it takes to save the euro, the initial outperformance of euro-area companies was strong. The MSCI EMU gauge rallied 28 percent in the following year from a low, beating the 19 percent advance in the MSCI Europe Index. But since then, investors haven't seen the extra boost in profit growth that they were hoping for. For this year, analysts expect earnings will increase 7.7 percent, down from projections of 12 percent in August.
"After the initial enthusiasm, the euro area's delayed economic recovery meant that there was a lot of skepticism," said Kevin Lilley, a fund manager who oversees European equities at Old Mutual Global Investors in London. His firm oversees $31 billion. "But the evidence is slowly coming in, and the euro zone should outperform the rest of Europe. Investors should also be positioned for added stimulus from Draghi, which will lift stocks that are most exposed to the economy."
When Draghi said on Oct. 22 that ECB policy makers will consider further stimulus at their December meeting, the Euro Stoxx 50 posted its biggest jump on an ECB rate-decision day in two years. The euphoria didn't last: the index is heading for its first weekly drop in four, with Deutsche Bank AG down 6.9 percent as it reported a 6 billion-euro loss for the third quarter and suspended its dividend for two years.
For the rest of the year, investors may not see much more gains. Strategists are expecting the Euro Stoxx 50 will end the year at 3,440, according to a survey this month. That's just 0.8 percent higher than yesterday's close.
"It didn't look so bad for earnings growth in the first half of the year, but then you had China's growth fears," said Tobias Britsch, who helps oversee about $30 billion at Meriten Investment Management in Dusseldorf, Germany. "I don't know what's going to be coming. Visibility is lower, you have some indicators that aren't that bad but then there are also a lot of profit warnings. It's a roller coaster."
Before it's here, it's on the Bloomberg Terminal.
LEARN MORE