Booker Says Hudson Tunnel Closings Increasingly Possible
by
Gateway to Manhattan lacks funds while damaged link at risk

Recession almost certain if key route shut, experts say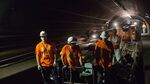 Century-old rail tunnels between Manhattan and New Jersey increasingly are at risk of becoming unusable before the $20 billion Gateway project that would construct new ones is funded, U.S. Senator Cory Booker said.
"The longer that we wait to get started, the more likely that is to happen," Booker, a New Jersey Democrat, said Friday in a telephone interview. His staff, he said, is working every day to find a source for the federal government's $10 billion share, as proposed last month by Governors Chris Christie of New Jersey and Andrew Cuomo of New York in a letter to President Barack Obama.
"Anything we do is going to have to get the blessing of Congress," Booker said. "I'm under no illusion that this is not going to be a difficult road."
Booker spoke after a Skype appearance at a Newark conference to discuss Gateway's economic impact. One speaker, James Hughes, dean of Rutgers University's Bloustein School of Planning and Public Policy, said any closing of existing tunnels would cause a regional recession and lead banks and other multinational companies to consider locations in Chicago or London.
Augmenting and improving Amtrak's tubes that bring commuters under the Hudson River to Manhattan is one of the nation's biggest infrastructure challenges. The only rail links to Manhattan for Amtrak and New Jersey Transit are at capacity, while peak commuter demand is expected to grow 20 percent from 2010 to 2020.
Sandy Damage
The tunnels were damaged three years ago when they were inundated by saltwater driven by Hurricane Sandy. As of last year, they had less than 20 years of serviceable life, according to Joseph Boardman, the national rail service's chief executive officer. For now, the link can safely handle its capacity, 24 trains an hour, Craig Schulz an Amtrak spokesman, said in an interview at the conference.
"There's no doubt that we have to rebuild them," Schulz said. "It's not a safety issue -- it's a reliability issue."
The $20 billion figure was cited by Cuomo, a Democrat, and Christie, a Republican running for president. Petra Tod Messick, an Amtrak planning manager, said the railroad won't come up with an estimate until an environmental impact statement is prepared next year.
Christie, who is lagging in national polls as he seeks the presidency, in 2010 canceled construction of Access to the Region's Core, a $12.4 billion tunnel, saying the design was faulty and the funding structure left New Jersey on the hook for cost overruns. Gateway is a more ambitious plan, including the tunnel plus replacement of an obsolete bridge in New Jersey's Meadowlands and expansion of Pennsylvania Station in New York.
Seth Pinsky, a vice president of New York-based RXR Realty, said that while funding remains unresolved, Manhattan's West Side is under pressure. Developers of the Hudson Yards area need a reliable tunnel to deliver workers to jobs and fuel the regional economy. He also was president of the New York City Economic Development Corp. from 2008 to 2013.
"We've stopped spending money on infrastructure because we've gotten it in our mind that spending leads to deficits and deficits are essentially a burden on the future," Pinsky said during the roundtable discussion, organized by a coalition of transportation and business groups. "An equal burden on the future is not investing."
Before it's here, it's on the Bloomberg Terminal.
LEARN MORE