BOJ's Meeting Was Its Shortest One-Day Gathering in 12 Years
By and
Still, BOJ Governor Kuroda says it was enough time to debate

Meetings end earlier when bank doesn't change policy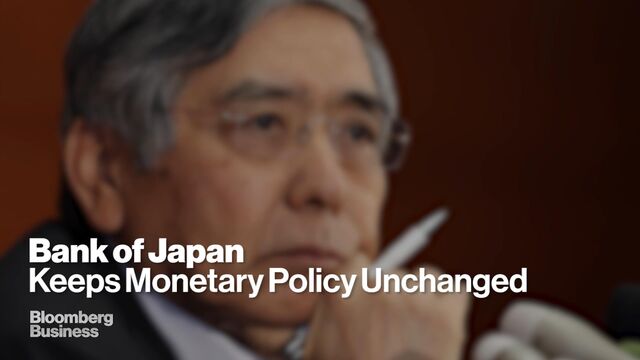 The Bank of Japan meeting Friday was the shortest combined policy and outlook report session in 12 years. That was still plenty of time to discuss policy and the economy, according to Bank of Japan Governor Haruhiko Kuroda.
"I'm not sure about it being the shortest meeting," Kuroda said at a press conference after the bank slashed inflation forecasts and kept policy unchanged. "We didn't skip over any discussion, had sufficient debate, and compiled this outlook report."
The meeting started at 9:00 a.m. and ended at 12:17 p.m. This was the shortest one-day meeting at which the bank decided policy and compiled the outlook report since October 2003, according to Bloomberg calculations. 

When the central bank leaves policy unchanged, its meetings tend to end earlier, according to Bloomberg calculations.
Izumi Devalier, economist at HSBC Holdings Plc, pointed to the duration of the meeting as one of its most interesting factors. "It actually delivers the BOJ's message," Devalier said. "It quashes the near-term easing expectations" as that shows discussions were smooth.