Billionaire Niel's Telecom Italia Stake Could Rise to 15.1%
by
Tycoon strengthens position as biggest holder behind Vivendi

French investors seeking more clout over Italian carrier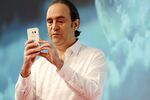 French billionaire Xavier Niel holds securities that could give him a 15.1 percent stake in Telecom Italia SpA, boosting his influence at the phone carrier and strengthening his position as the biggest shareholder behind Vivendi SA.
Niel's holding includes a potential 10 percent stake stemming from six options contracts and the remainder based on other long positions, according to a filing released by Italy's market regulator Consob Friday. At Friday's market price, a 15 percent stake in Telecom Italia's voting shares is valued at about 2.7 billion euros ($3 billion). On Thursday, the regulator said Niel, the founder of broadband provider Iliad SA, held securities through his personal investment company giving him an 11 percent voting stake.
Together, Niel and Vivendi, whose chairman is fellow French billionaire Vincent Bollore, will have an effective stake of more than 30 percent in Telecom Italia. Until earlier this year, Italy's largest phone company had been controlled by Spain's Telefonica SA and a group of Italian financial investors. Their replacement by the two French shareholders comes as Telecom Italia Chief Executive Officer Marco Patuano seeks to revive the company's local business and sell assets to reduce a debt load of almost 27 billion euros.
Shares of Telecom Italia rose 0.6 percent to close at 1.27 euros in Milan for a market value of about 23.3 billion euros. They rose 8.7 percent Thursday after Bloomberg News reported Niel's initial holding. Vivendi, which disclosed its stake topping 20 percent earlier this month, fell 1.9 percent in Paris trading.
Niel can exercise rights to convert six call options representing about 10 percent of Telecom Italia's common stock starting next year, according to a regulatory filing. The settlement date for the first option, for a 4.9 percent stake, is on June 21, 2016, with the dates for the other five tranches of 1 percent each from January 2017 to November 2017. No details were disclosed about Niel's remaining securities.
The Italian government led by Prime Minister Matteo Renzi said it's monitoring Telecom Italia developments. The company is strategic for Italy and any change in its shareholding structure must follow market rules and strengthen Telecom Italia's business, Cabinet Undersecretary Claudio De Vincenti said in a statement.
Regulator Investigation
Consob is reviewing whether Niel and Vivendi may be acting in concert on Telecom Italia. Niel and Vivendi declined to comment Thursday, and didn't immediately return requests for responses Friday. Patuano said he didn't see the two French billionaires acting together to take over Telecom Italia.
"We see both Vivendi and Mr. Niel as aligned in their goal of unlocking value at TI; we see them driven by the value creation opportunity," Haitong Research analysts said in a note. Its unlikely that Vivendi and Niel are acting together or competing with each other for power over Telecom Italia, the analysts said.
Last year Italy lowered the threshold for a mandatory takeover offer to 25 percent from 30 percent for companies with a market capitalization of more than 500 million euros and revenue above 300 million euros in an effort to protect minority shareholders and to discourage investors who aren't committed to a long-term industrial plan.
Telecom Italia is the biggest mobile and broadband carrier in the country of about 60 million people. It also controls Brazil's second-biggest wireless provider, Tim Participacoes SA.
Before it's here, it's on the Bloomberg Terminal.
LEARN MORE