Bill Ackman Says Valeant Shares Have Upside Despite Scrutiny
by
Drugmaker severs ties with pharmacy after Bloomberg report

Shares continue decline amid scrutiny of business practices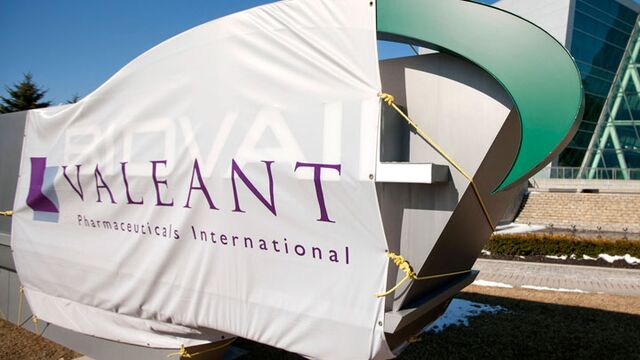 Valeant Pharmaceuticals International Inc.'s shares are trading at a steep discount and will take some time to recover, said Bill Ackman, the billionaire activist investor who has helped rally support for the drugmaker whose shares have sunk amid scrutiny of its business model.
The company made a "meaningful mistake" in spending too little on public relations and government relations, said Ackman, whose Pershing Square Capital Management was Valeant's third-biggest holder with 19.5 million shares as of June 30. On Thursday, Bloomberg News reported that Valeant's specialty pharmacy partner, Philidor RX Services, has altered doctors' orders to wring more reimbursements out of insurers, citing former employees and an internal document.
"We don't think the business model is broken," Ackman said.
His presentation was little comfort to shareholders. Valeant shares fell 9.2 percent to $101.22 at 11:53 a.m. in New York, their eighth decline in the past 10 trading days. The stock has 89 percent upside at its current value today, Ackman said, assuming his projections for earnings growth, debt reduction and the loss of 50 percent of the Philidor business.
Short-seller Citron Research on Oct. 21 accused Valeant of recording fake sales, causing its stock to plummet. Ackman that day defended the drugmaker, saying he added 2 million more shares and hasn't sold a single one. Sticking with Valeant as its stock slid 57 percent since an August peak has come at a price: Pershing Square investments extended their losses over the past week to a 15.9 percent decline this year, based on weekly data reported Oct. 27.
Citron Research, in its report last week, said Valeant was using Philidor to store inventory and record those transactions as sales. Valeant, in response, defended its relationship with the specialty pharmacies that distribute its drugs and said sales are only recorded when drugs are sent to patients.
In a tweet today, Citron said it had more information to report on Valeant on Monday. It didn't provide details.
Changing Codes
Philidor workers were given written instructions to change codes on prescriptions in some cases so it would appear that physicians required or patients desired Valeant's brand-name drugs -- not less expensive generic versions -- be dispensed, Bloomberg reported Thursday, citing former employees of the pharmacy.
Valeant severed ties with Philidor on Friday, citing "recent allegations."
"We understand that patients, doctors and business partners have been disturbed by the reports of improper behavior at Philidor, just as we have been," Valeant Chief Executive Officer Michael Pearson said in the statement. "We know the allegations have also led them to question Valeant and our integrity, and for that I take complete responsibility. Operating honestly and ethically is our first priority, and you have my absolute commitment that we will make it right."
On the call, Ackman said specialty pharmacies like Philidor can be good for patients because they gives them more convenient access to medications and eliminate the burden of the co-pay, which is often covered by the drugmaker.
Ackman isn't mounting a solo defense. ValueAct Capital Management, which helped design Valeant's business approach, doubled its membership on the company's board on Monday. The drugmaker's biggest investor -- Ruane, Cunniff & Goldfarb, which manages the $8.1 billion Sequoia Fund -- on Thursday said Valeant pushes boundaries but operates within the law. As of June 30, the investor held 33.9 million shares, or almost 10 percent of Valeant.
The drugmaker said Friday it hired former U.S. Deputy Attorney General Mark Filip, now with Kirkland & Ellis LLP, to advise an ad hoc committee of the board that's reviewing Valeant's business relationship with Philidor.
Before it's here, it's on the Bloomberg Terminal.
LEARN MORE