AB InBev Gains From Premium Push as SABMiller Deadline Looms
by
Revenue to exceed rate of inflation, helped by Michelob Ultra

Brewer says asset sales not precondition for SABMiller deal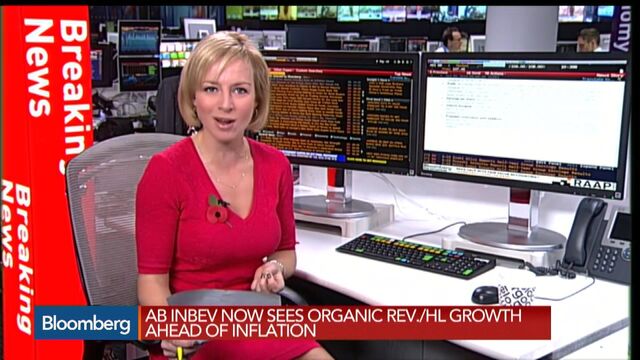 Anheuser-Busch InBev NV said premium beers such as Michelob Ultra will push sales above its forecast as it works to meet next week's deadline for submitting a formal $106 billion bid for SABMiller Plc.
Organic revenue will rise faster than inflation, the world's biggest brewer said in a statement on Friday, having previously predicted that growth will match that of consumer prices. The Budweiser maker said the boost to sales will more than offset a corresponding increase in costs caused by pushing pricier brews.
AB InBev shares gained as much as 2.5 percent in Brussels. The brewer's outlook still hinges on the outcome of its planned acquisition of London-based SABMiller, which it must submit by Nov. 4 after twice extending the deadline with the U.K. takeover regulator. The deal doesn't depend on any asset sales that may be needed to meet antitrust requirements, Chief Financial Officer Felipe Dutra said on a call with journalists Friday.
"The bigger debate right now is the proposed acquisition of SABMiller," Eamonn Ferry, an analyst at Exane BNP Paribas, said in a note to investors. He described third-quarter sales growth as "good to solid."
AB InBev is "working hard" to formalize its proposed bid for the maker of Aguila and Carling Black Label, Dutra said. Banks are ready with financing, though the brewers are still finalizing commitments from shareholders regarding the offer, he said. SABMiller's biggest investor, Altria Group Inc., is among those that have indicated that they support the takeover.
"There is a lot to be accomplished in a short amount of time," Dutra said.
Seeking Resolution
The brewer will work "proactively" with regulators in the U.S. and China to resolve antitrust issues "promptly," the executive said. To gain approval, SABMiller's stakes in the MillerCoors joint venture in the U.S. and CR Snow in China may need to be sold.
"Asset sales are not preconditions for the transaction," Dutra said.
Growing through acquisitions remains one of AB InBev's "core competences" and the brewer will keep looking for opportunities as they arise, he later said on a call with investors. The company has been a serial acquirer of so-called craft brewers such as Goose Island Beer Company and Elysian Brewing. Chief Executive Officer Carlos Brito said on the same call he was "very happy" with the company's strategy in craft beer.
AB InBev stock pared most of the day's gains and was trading 0.5 percent percent higher at 108 euros as of 3:39 p.m. in Brussels.
Third-quarter revenue rose 7.9 percent on an organic basis, the fastest pace in six quarters and beating analysts' estimates for a 6.7 percent gain.
Sales growth accelerated in the U.S., rising 2.8 percent. The performance was helped by higher-priced beers such as Stella Artois and Goose Island, an area where AB InBev is seeking to raise its game.
Adjusted earnings before interest, taxes, depreciation and amortization rose 9.6 percent on an organic basis. That compares with the median estimate of 10 analysts for 9.4 percent growth.
Costs of sales per hectoliter will rise by low to mid-single digits, higher than previously forecast, AB InBev said.
Before it's here, it's on the Bloomberg Terminal.
LEARN MORE