Yale University Had $194 Million Surplus in Latest Fiscal Year
by
Surplus was due to $250 million pledge from Charles Johnson

Ivy League school's endowment had 11.5% investment return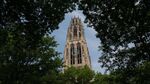 Yale University, the second wealthiest U.S. college, had a $194 million surplus in the fiscal year ended June 30, largely due to revenue from a $250 million pledge from alumnus Charles B. Johnson.
Net assets were $27.4 billion, a 6.1 percent increase from the previous year, primarily because of the school's 11.5 percent investment return in its endowment, according to a financial report released Wednesday by the New Haven, Connecticut-based school.
The fund's return was the second-highest in the eight-member Ivy League, growing 8.4 percent to $25.6 billion, its highest value to date. Wealthy schools that are reliant on their endowments have recovered from the financial crisis. Yale's budget rebounded from a $39 million deficit two years ago, according to the report.
"Yale's balance sheet remains strong, providing a stable platform from which to carry out the varied and important mission it supports," Stephen C. Murphy, vice president for finance and chief financial officer, said in the report.
The school spent 4.5 percent from its endowment, the lowest percentage in five years. The endowment provides more than $1 billion in revenue annually, almost one-third of total revenue in the 2015 fiscal year. 
The donation from Johnson, who was chairman of Franklin Resources Inc., a San Mateo, California-based money manager, will build two new residential colleges that will expand the undergraduate class.
Before it's here, it's on the Bloomberg Terminal.
LEARN MORE