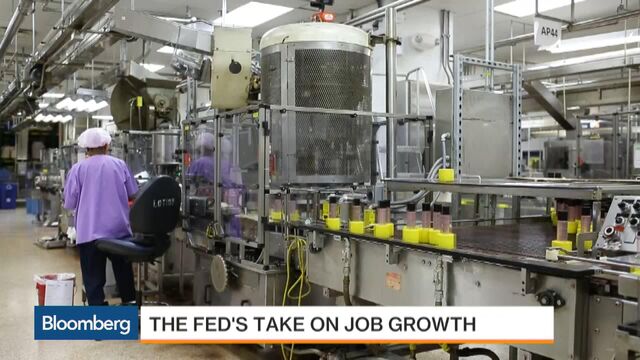 Federal Reserve officials said on Wednesday that they are considering raising interest rates in December, setting the stage for the first increase since 2006. Paramount to the decision will be the "realized and expected" progress that the economy makes over the next few weeks: the data that comes out and the way policy makers interpret those numbers. 
Here are the six things to watch ahead of the central bank's next gathering, which takes place Dec. 15-16 in Washington. 
1. Third-quarter GDP
Date: Oct. 29 and Nov. 24 (revisions)
Just a day after its October meeting, the Fed got the first details on how the economy fared in the third quarter. Gross domestic product rose 1.5 percent compared to a 3.9 percent increase in the prior three months, a Commerce Department report showed. That gain was in line with the 1.6 percent rate projected in a Bloomberg survey of economists. The slowdown came as companies reduced bloated stockpiles, so many economists say it will be short-lived. Revisions to these figures will be released on Nov. 24. While economic growth isn't explicitly part of the Fed's dual mandate of stable inflation and maximum employment, the strength of the economy matters hugely for those goals. 
2. Inflation data
Date: Oct. 30 and Nov. 25
Officials will see two prints of a bread-and-butter indicator, the price index tied to personal consumption expenditures, between this meeting and next. The Fed's preferred inflation measure probably climbed 0.2 percent in September from a year earlier, a slight slowdown from the 0.3 percent increase in the 12 months ended August, based on the median estimate in a Bloomberg survey of economists. That is well below the Fed's 2 percent target. 
3. Janet Yellen 

Date: Nov. 4, Dec. 2, Dec. 3
Fed Chair Janet Yellen has a number of scheduled public appearances over the next weeks: testimony on regulatory matters to the House Financial Services Committee, a speech to The Economic Club of Washington, and testimony to Congress' Joint Economic Committee. The first appearance isn't officially about the economy, but hearings on Capitol Hill don't always stay on topic. The next two appearances should give Yellen plenty of time to air her views on how the outlook for growth is shaping up. 
4. Stanley Fischer 

Date: Nov. 4
Federal Reserve Vice Chairman Stanley Fischer will give a memorial lecture to The National Economists Club early next month. As the Fed's No. 2, every word Fischer says matters to monetary-policy watchers. In his most recent speech on Oct. 11, Fischer gave some valuable insight into where he personally sat on monetary policy as officials submitted their economic projections in September. "Most participants, myself included, anticipated that achieving these conditions would entail an initial increase in the federal funds rate later this year," he said. 
5. Fresh jobs data
Date: Nov. 6 and Dec. 4
The Fed recognized in its October policy statement that labor market gains have slowed. Officials will have two more readings of the monthly jobs report on hand before December's meeting to help them assess how close they are to reaching full employment. Policy makers in September indicated that they see the long-run jobless rate at 4.9 percent, and unemployment stood at 5.1 percent last month. 
6. William Dudley 

Date: Nov. 12
Federal Reserve Bank of New York President William Dudley will speak on the economic outlook and what it means for monetary policy at The Economic Club of New York. This will be a headline event because, as a full-time voter and president of the Fed district that contains Wall Street, Dudley is often viewed as the third-most important member of the FOMC behind Yellen and Fischer. He's also fairly moderate on policy, which make his views a good gauge for which way the wind is blowing inside the committee. 
Bonus: Fed minutes
Date: Nov. 18
Fed watchers will learn a little bit more about what happened at October's meeting in mid-November, when the central bank releases minutes from the gathering. Why did the Fed add a reference to the next meeting? Why did they drop language saying global economic and financial developments "may restrain economic activity somewhat"? Details could emerge. 
Before it's here, it's on the Bloomberg Terminal.
LEARN MORE