Valeant's Largest Investor Defends Drugmaker Amid Stock Slide
by and
Ruane, Cunniff & Goldfarb says Valeant operates within the law

Valeant represents 29% of Ruane's $8.1 billion Sequoia Fund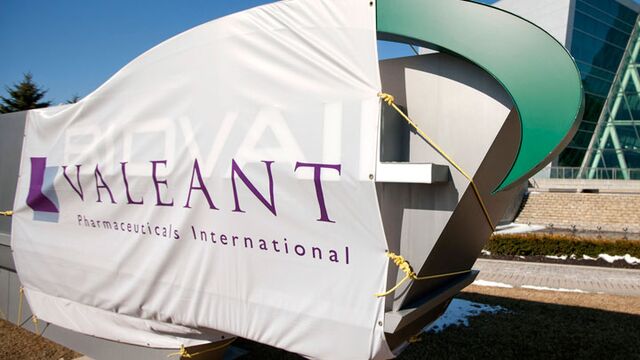 Valeant Pharmaceuticals International Inc.'s largest shareholder is stepping into the ring to defend its investment.
Amid a stock slide that's knocked 56 percent off Valeant's value since its August peak, the investment firm Ruane, Cunniff & Goldfarb wrote a letter defending Valeant on Wednesday. Ruane, which manages the $8.1 billion Sequoia Fund, was the biggest investor in the stock as of June 30, with 33.9 million shares, or almost 10 percent of the company. A stake that size would be worth $3.9 billion at today's prices. The firm first bought shares in the third quarter of 2010, when the shares averaged $23.
Valeant's business practices have been under fire from short-sellers, who make money when shares decline. They accuse Valeant of using a mail-order pharmacy called Philidor Rx Services LLC to inflate its sales figures. The drugmaker defended itself in a call with investors on Monday, saying it was legally insulated from Philidor.
"Valeant is an aggressively managed business that may push boundaries, but operates within the law," Robert Goldfarb and David Poppe, executives at Ruane, wrote in a letter to shareholders. "Our consultations with lawyers who specialize in the pharmaceutical industry lead us to believe there is no legal reason Valeant can't advise, control or own Philidor."
ValueAct, Ackman
Other Valeant shareholders have also stood up for the company. ValueAct Capital Management, which helped design Valeant's business approach, doubled its membership on the company's board on Monday. And Bill Ackman, whose Pershing Square Capital Management was Valeant's third-largest shareholder as of June 30, said he will discuss the investment on Friday. Ackman said he bought 2 million more Valeant shares last week.
Valeant was cheap earlier this week, according to Goldfarb and Poppe, who manage the Sequoia Fund.
"At a recent price of $110, Valeant trades for about seven times the consensus estimate of 2016 cash earnings, which does not strike us as a rational price for a company with a diverse collection of product lines and strong earnings growth," the pair wrote in the letter.
Graham Students
The Sequoia Fund was co-founded in 1970 by Richard Cunniff and William Ruane, a friend of Warren Buffett's from the days when the two studied together under value investor Benjamin Graham at Columbia University. Ruane died in 2005 and Cunniff in 2014. Ruane was fond of saying that your six best ideas in life are likely to do the best. That philosophy has led the fund to run a highly concentrated portfolio. At the end of 2004, Buffett's Berkshire Hathaway Inc. represented 35 percent of the fund, according to the fund's website.
Two independent directors of Sequoia Fund, Vinod Ahooja and Sharon Osberg, resigned from the board last weekend, Dow Jones reported Thursday. The pair are no longer listed on the fund's website. Roger Lowenstein, chairman of the fund, confirmed in a telephone call that the two directors resigned. Lowenstein is a contributor to Bloomberg View.
Valeant accounted for 29 percent of the fund's assets as of June 30, according to data compiled by Bloomberg.
"We think Valeant is poised for more growth, both organic and acquired," Goldfarb and Poppe wrote in the 2014 annual report. "We think it is brilliantly managed by Mike Pearson and his team. And yes, we are comfortable with the size of our holding."
The $8.1 billion fund has lost 3.8 percent this year, including dividends, trailing 89 percent of rivals. Over five years it beat 70 percent of peers. An investor who put $10,000 into the Sequoia Fund when it opened would hold $4.6 million as of June 30, according to the fund's website.
Before it's here, it's on the Bloomberg Terminal.
LEARN MORE