Is Turkey a Buy or a Sell? Four Election Scenarios Hold the Key
by and
Coalition seen as more likely this time, may boost lira

Volatility to `remain high' if another election is required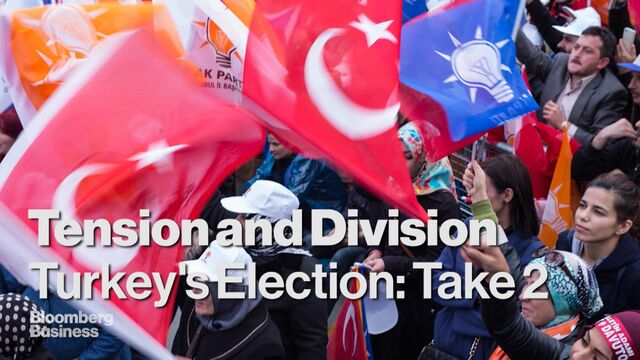 As Turks prepare to vote this weekend, some analysts see an increasing likelihood the five-month political deadlock that roiled markets is nearing an end.
QuickTake Turkey's Continental Divide
Turkish assets were battered after the Justice and Development Party, or AKP, lost its parliamentary majority in June and political parties failed to form a coalition government, prompting a repeat vote. While polls point to another hung parliament, there are signs politicians would be more willing to form a coalition this time, the first since President Recep Tayyip Erdogan's AKP swept to power in 2002. 
A failure by opposing leaders to work together would thrust the nation deeper into a political crisis at a time when rising terrorist threats and the prospect of higher U.S. interest rates have spooked investors.
Here are some possible outcomes for the vote and implications for the nation's $800 billion economy:
SCENARIO ONE: AKP majority
The AKP wins at least 276 seats in parliament, eliminating the risk of another vote and averting coalition talks.
This would be the best outcome for investors in the short term, because it would "immediately eliminate some of the question marks that markets desperately want to avoid," said Inan Demir, the chief economist at Finansbank AS in Istanbul. 
The positive reaction might prove "short-lived," Demir said, as an AKP victory "would open up questions about checks and balances, a de facto presidential system and prudent economic policies."
A single-party victory may reignite the debate over constitutional changes sought by the AKP that would lead to a government run by the president. If the AKP wins at least 330 seats in parliament, it can call a referendum on the matter.
SCENARIO TWO: Hung parliament and coalition

If no party gets a majority, a new parliament would convene within five days and elect a speaker. Erdogan would then task someone from parliament with forming a coalition government, a process that can take up to 45 days.
Polls show this is the probable result. Indications that the AKP and the opposition Republican People's Party, or CHP, would be more willing to form a coalition this time around have increased investor confidence.
Prime Minister Ahmet Davutoglu said on Tuesday the AKP would be open to a coalition if his party doesn't get the majority he expects. The same day, Kemal Kilicdaroglu, the head of the CHP, said it's incumbent on politicians to work together on a solution if no party wins. 
The market would "rally hard," on this outcome, according to Timothy Ash, a credit strategist at Nomura International Plc. in London. A coalition with the CHP, the market's "best-case scenario," would bring the prospect of a strong economic team, Ash said.
The checks and balances afforded by a coalition would reassure investors that "there would be a government, but not a strong one which can make radical policy changes," said Tatha Ghose, an emerging market economist at Commerzbank AG in London.
SCENARIO THREE: Hung parliament and another election
While the AKP may win a single party majority, if it falls short by a narrow margin the party may want to hold another vote or form a minority government, according to Ozgur Altug, chief economist at BGC Partners in Istanbul.
"In the absence of a proper government or coalition, further deterioration of consumer sentiment and postponement of investment decisions may be likely, which may ultimately result in a recession," Altug said in an e-mailed report. Market volatility under this scenario "is likely to remain high," leading to a steep decline in the lira and higher interest rates, he said.
Failed coalition talks "would be a disaster, because the parties now have the electorate's mandate to cooperate," said Ghose. "If they still cannot do so and waste more time and resources to repeatedly hold elections, then the system will be viewed as broken."
SCENARIO FOUR: HDP below the electoral threshold
Investors are wary of the potential for violence should the pro-Kurdish Peoples' Democratic Party, or HDP, fail to win the 10 percent of the vote it needs to gain parliamentary representation.
The peace process between the government and the Kurdistan Workers' Party, or PKK, ended after the June election, which gave the HDP parliamentary representation for the first time. Since then, violence has intensified, especially in the predominantly Kurdish southeast.
While unlikely, this would be the "worst outcome," according to Ilan Solot, an emerging-market currency strategist at Brown Brothers Harriman in London. It would have a big impact on Turkish markets by raising the risk of "a situation of constant civil unrest," he said.
Before it's here, it's on the Bloomberg Terminal.
LEARN MORE