Today AIG, Tomorrow Citi, BofA? Icahn Takes on Too Big to Fail
by
Many large banks face same issues of low returns, regulation

Lenders' market cap, Fed oversight provide activist obstacles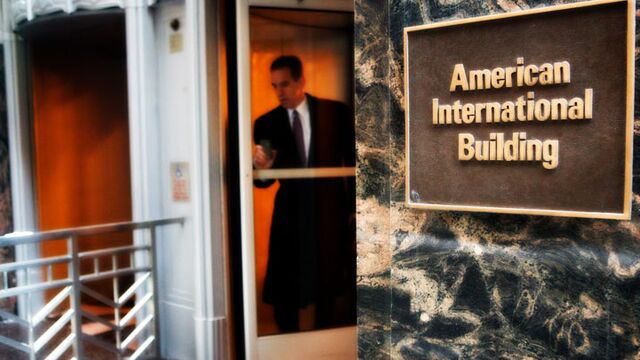 Carl Icahn is pushing for the breakup of insurance giant American International Group Inc., but America's biggest banks could be forgiven for thinking he was talking about them, too.
What the gray-bearded activist investor identifies as the symptoms of AIG's corporate obesity -- below-target returns, discounted valuations and the scarlet letter of the "systemically important" designation that brings what he calls an "onerous regulatory burden" -- can also be slapped on Wall Street financial supermarkets such as Bank of America Corp. and Citigroup Inc.
"Today, insurance; tomorrow, banks. Why not?" said Mike Mayo, a CLSA Ltd. analyst who published a note three years ago saying many of the biggest banks were worth more in smaller pieces. "Prove the value of having these businesses all under one roof, or consider Plan B, which would be some form of a breakup."
Even with senators, presidential candidates, central bankers and Citigroup's creators Sanford Weill and John Reed arguing for a breakup of the behemoths, several of the banks deemed too big to fail during the 2008 financial crisis are bigger now than they were then.
"When you have someone like a Carl Icahn come in and throw these issues out, it's healthy," said Peter Kovalski, a portfolio manager at Alpine Woods Capital Investors, which oversees about $4 billion, including JPMorgan Chase & Co. and Citigroup shares. "It gets investors talking, it hopefully gets the banks' board talking, about what really is in the best interest of shareholders and the company."
The Federal Reserve has proposed rules that would encourage the biggest banks to shrink. They boost the portion of equity capital a bank must hold as the lender's size and complexity increase. In an echo of Icahn, Goldman Sachs Group Inc. analysts said in January that because of the new rules, JPMorgan would be worth more if it were broken up.
Banks have reacted to the Fed's proposals. JPMorgan pushed out some client deposits as part of an effort to reduce its required capital ratio. Bank of America Chief Executive Officer Brian Moynihan said earlier this month his bank capped the size of its trading operation for the same reason. 
Fundamental Changes
Still, some investors see those as tweaks, not fundamental changes to a new environment. That's the criticism Icahn leveled against AIG CEO Peter Hancock in a letter Wednesday.
"Despite definitive action on the part of Congress and regulators to encourage this company to become smaller and simpler by splitting up, you have shown no sign of urgency and have chosen a 'wait and see ... for years' strategy," Icahn wrote in the letter.
AIG trades for about 80 percent of book value, a measure of assets minus liabilities. By comparison, property-casualty insurer Travelers Cos. trades for more than 1.4 times book value.
Bank of America and Citigroup also trade below book value. They haven't posted a full-year return on equity above 7 percent in the past four years. Investors, meanwhile, estimate their cost of equity at 10 percent.
Preaching Patience
Executives at Bank of America, Citigroup and Morgan Stanley have preached patience as low interest rates, declining trading revenue and legal costs have kept profitability below their own targets.
Banks offer several obstacles for would-be activists. JPMorgan, Bank of America and Citigroup all have market values at least double that of AIG, requiring twice the capital for an investor to accumulate the same percentage stake. And such a buying spree could attract regulatory scrutiny. The Federal Reserve can examine stakes bigger than 10 percent that present the potential for a controlling influence over management.
"We expect more activists to get involved in the banks if the returns on equity don't exceed their cost of capital," said Gerard Cassidy, a bank analyst at RBC Capital Markets. Still, "breaking up a company is radical. That kind of radical action is not going to happen with the banks with somebody owning only 1 percent of the shares."
Banks have also made the case for remaining intact after years of divesting assets. Trading units benefit from the cheap, stable funding provided by retail deposits. JPMorgan said at an investor day in February that $15 billion of revenue and $3 billion of cost savings would vanish in a breakup. Citigroup CEO Michael Corbat said Thursday that multinational clients need his firm's global reach.
Some activist investors have taken stakes in the largest banks and sold them without much agitation. Bill Ackman's Pershing Square purchased Citigroup shares in April 2010 and sold them two years later as the stock declined by more than a quarter. Dan Loeb's Third Point bought shares of Morgan Stanley in late 2012 and did push for lower pay for directors. But he sold the next quarter as the stock rose to as much as 46 percent above Third Point's purchase price.
If a large bank runs into any idiosyncratic issues, an activist may be able to combine a meaningful stake, a bully pulpit and savvy timing to wield the breakup hammer, Mayo said. Regulators and some bank critics in Congress would welcome the move, he said.
"I think you could have Carl Icahn and Elizabeth Warren dancing a jig together if you broke up some of the largest banks," Mayo said. "Because investors would win, and there would be more simplicity among the largest banks."
Before it's here, it's on the Bloomberg Terminal.
LEARN MORE