This Chart Shows the Market Isn't Worried About the Fed Making a Policy Mistake
by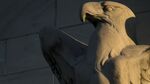 Would a Federal Reserve rate hike in December be a mistake?
Investors' answers to this question are material, if for no other reason than that their prophecies can be self-fulfilling.
A prolonged period of risk aversion in response to the start of a tightening phase in which stocks sold off, for instance, would constitute a tightening of financial conditions, with the negative wealth effect presumably crimping consumption in the future.
As the Fed inches closer to a rate hike, some market participants are clearly increasingly worried about the possibility of the central bank committing an unforced error. Coverage of the Fed reflects these concerns, as this chart showing the frequency of the phrase "policy mistake" in news articles, highlighted by Bloomberg Intelligence chief economist Michael McDonough, demonstrates:

But Torsten Sløk, chief international economist at Deutsche Bank, has another chart that suggests the market doesn't think liftoff in December would foment doom. Yields on two-year and 10-year U.S. government debt rose in response to the Fed's hawkish communique, he observed:

Sløk explained:
Most of my client discussions after the FOMC statement, both with US and Asian clients yesterday and European clients this morning, have been about the fact that a more hawkish Fed resulted in higher long rates ... This stands in contrast to the view, which I sometimes hear in client conversations, that a Fed hike in December would be perceived by markets as a policy error, and hence long rates would go down. Or put differently, based on the post-FOMC uptrend in long-term interest rates, I don't think the market in December would interpret a Fed hike as a policy mistake. Instead, markets are telling us that we should expect that Fed liftoff in December will be pushing long rates higher. 
The reasoning goes like this: If the 10-year Treasury yield fell as the Fed hiked rates, that could be interpreted as a sign that market participants adjusted their growth and inflation expectations downward due to concerns that the central bank was poised to bring about an end to the U.S. economy's expansion.
Conversely, higher yields in response to the initiation of a tightening cycle would serve to support the notion that the market believes the Fed is hiking due to the strength of the American economy—and that the robust growth in domestic demand will endure.
On the flip side, the spread between the U.S. five-year Treasury yield and 30-year yield narrowed notably in the wake of the announcement, which would send the opposite signal - that investors have concluded a Fed hike would crimp the economy. A flatter five-to-30 section of the yield curve, however, is more common than not in the run-up to a tightening phase.
Before it's here, it's on the Bloomberg Terminal.
LEARN MORE