The Man Who Will Decide Brazil's Fate Wants Something in Return
by , , and
Lower-house leader Eduardo Cunha is accused of Petrobras graft

It's up to Cunha to decide whether to start impeachment bid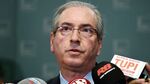 In the 19 months since a sprawling corruption scandal broke out at Brazil's state-run oil giant, many people have come to represent the crisis through its twists and turns. President Dilma Rousseff, of course, has played that role for much of that time, but so have lesser-known types like a money-laundering kingpin and a crusading federal judge.
Now, it is Eduardo Cunha's turn.
No one is more important in Brazil today than the 57-year-old lawmaker. As head of the lower house, he alone has the power to trigger -- or squelch -- impeachment proceedings against the beleaguered Rousseff. Eleven separate ouster requests sit on his desk. But Cunha, it turns out, is a man with a checkered history in this saga too, adding an element that both accentuates his role as the current face of the scandal and, more importantly, scuttles any chance for a quick resolution. Having become a target in the graft probe himself, Cunha worries, according to a person who met with him recently, that he will be driven out of office the moment he agrees to initiate the case against Rousseff.
"He has the trump card, which is the impeachment, but he's a prisoner of that trump card," said Chico Alencar, leader in the lower house of the Socialism and Liberty Party, which is calling for Cunha's resignation. As he fights for his own political survival, Cunha is counting on the "silence from the majority" of lawmakers who need his help to oust Rousseff, he said. "It's a game of interests."
Cunha, who has repeatedly denied any wrongdoing in the corruption scandal, declined to be interviewed for this story. He said through his press adviser that he's not using the impeachment as leverage.
Stalled Fiscal Measures
His dilemma, many have argued, looms as the single biggest reason Brazil's political machine has ground to a halt. As he delays ruling on impeachment proceedings, the focus stays on him, rather than on fiscal measures needed to stem a swelling budget deficit, curb inflation and, eventually, put Latin America's largest economy back on the path toward growth.
A recent defector from Rousseff's ruling coalition, Cunha has spent much of the past few weeks in closed-door meetings with at least one key member of the government as well as with various factions of the opposition that need his support to impeach the president, according to people who attended the meetings. The requests to oust Rousseff have been based on allegations ranging from doctoring the federal budget to illegal campaign financing, accusations she has denied.
"He's using the impeachment process as a hostage to hold off any investigation" into his role in the corruption scheme, said David Fleischer, a professor emeritus of political science at the University of Brasilia. "If he doesn't do anything, the opposition will be very upset. But if he does something and installs impeachment proceedings, the government will be very upset."
Bribes and Money Laundering
Cunha, a four-term congressman who is also an evangelical radio show commentator, is no stranger to controversy. In the only impeachment in Brazil's history, back in 1992, he was accused -- but never formally investigated -- of wrongdoing related to the pay-to-play scheme that ended Fernando Collor's brief presidency. Fernando Henrique Cardoso, who was elected president two years later, cited Cunha's "missteps" as the reason why he didn't appoint him to a post at Petrobras, the state-run oil producer, according to excerpts from the former leader's memoir.
Now, Brazil's chief prosecutor is asking the supreme court for permission to charge Cunha with taking $5 million in bribes to throw his might behind contracts with Petrobras and laundering part of the money through a church, documents in the case show. The supreme court is awaiting Cunha's defense before deciding whether to accept the charges. In a parallel case, the prosecutor is also asking the top tribunal to open an investigation into bank accounts the lawmaker and his family maintained in Switzerland that were allegedly funded by his ill-gotten gains.
Cunha has shot back at the prosecutor, a Rousseff appointee, saying he's leaked information to the press to weaken him politically. Cunha has vowed to prove his innocence and said he won't resign.
"This is clear persecution," his office said in a statement released this month.
Devastating Defeats
As he battles the allegations, Cunha has transformed himself into a key Rousseff rival and an asset for the opposition. He spearheaded some of the president's most-devastating defeats in Congress, including a bid to boost social-security spending that threatens to further swell a budget deficit that's already the widest on record since the data series began in 2002. In July, he said he'd join the opposition even though his party is a member of the ruling coalition.
Cunha, of course, can't delay his decision on the impeachment forever. In the meantime, the back-room meetings continue.
"If he's as smart as people believe he is, he will be able to negotiate a way out -- politically, but not judicially," said Thiago de Aragao, partner and director of strategy at political-risk consultant Arko Advice in Brasilia. "He will hold onto his power as long as he can."
Before it's here, it's on the Bloomberg Terminal.
LEARN MORE