Star Wars Paint Jobs Reveal Ambitions of Japan's ANA
by
ANA's default risk falls to lowest since January 2008

Net income jumps 51% as it increases international flights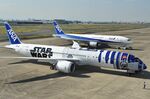 ANA Holdings Inc.'s bond risk jumped last year as the company announced its biggest-ever order for new aircraft. Now Japan's largest airline is being rewarded for the bravado that saw it give its fleet Star Wars paint jobs.
The cost to insure the debt of ANA against nonpayment dropped to 58 basis points, the lowest since January 2008, from 128 a year earlier, according to data provider CMA. The Markit iTraxx Japan credit-default swap index fell three basis points during the period. ANA has a positive outlook on its BBB+ credit score from Japan's Rating & Investment Information Inc., the third-lowest investment grade.
The carrier boosted net income by 51 percent in the first fiscal half year as it added more flights from Tokyo's Haneda airport and foreign visitors to Japan in the year to Sept. 30 surpassed the total for 2014. ANA, which has teamed up with Walt Disney Co. to paint planes with "Star Wars" characters ahead of the latest release of the movie series, said earlier this month it would increase flights between Haneda, Asia's second-busiest airline hub, and Shanghai from February.
"There were concerns that ANA's expansion would lead to increased debt as it added new planes to expand capacity," said Yusuke Ueda, a Tokyo-based credit analyst at Bank of America Merrill Lynch. "However, the expansion has led to a big increase in profit and that has eased those fears."

The Tokyo-based carrier posted a net income of 54 billion yen ($446 million) in the six months ended Sept. 30, compared with 35.8 billion yen a year earlier, it said on Wednesday. Sales rose 6.6 percent to 911 billion yen, the company said.
ANA announced an order to buy 70 aircraft, valued at 1.7 trillion yen at list prices, last year to replace planes and expand its fleet. Its credit-default swaps rose to 169 basis points the day of the announcement, almost three times the current level.
The subsequent drop comes as its increasing profits help reduce borrowings even after the purchases.
ANA's interest-bearing debt declined 4.8 percent to 781 billion yen as of Sept. 30, compared with 820 billion yen six months earlier, the company said. It aims for a further reduction to 720 billion yen by the end of March, Yuji Hirako, the chief financial officer at the airline, told reporters in Tokyo on Wednesday.
International Expansion
The carrier has been expanding international flights after winning 11 new daytime take-off and landing slots from Haneda last year, compared with five for Japan Airlines Co. ANA added services to Houston from Tokyo's Narita in June, Kuala Lumpur in September, and Belgium earlier this month.
Tourists from abroad have swelled in Japan, as a weakening yen makes the country more affordable. In the first nine months of the year there were 14.5 million overseas visitors, already more than all of 2014, and they spent a record 1 trillion yen in the three months through September, according to the Japan Tourism Agency.
"Star Wars" could be a draw for travelers. ANA has painted planes with images of R2-D2 and BB-8, robots from the first and latest movies, ahead of the December release of the latest chapter. The first planes started flying between Tokyo and Vancouver this month and they will be on other international and domestic routes.
Skymark Code-share
The airline is also considering code-shares with Skymark Airlines Inc., Japan's third-largest carrier, after becoming a sponsor for the bankrupt company in August. Integral Corp., the private-equity firm guiding Skymark's turnaround, will become the biggest shareholder in the carrier, while ANA will take a stake of 16.5 percent.
ANA's shares have jumped 41 percent in the past year, exceeding the 22 percent increase in the Topix index of Japanese stocks.
"We expect ANA to strengthen its business for overseas visitors through the expansion of business with low-cost carriers and trading companies," Hiroshi Hasegawa and Osuke Itazaki, analysts at SMBC Nikko Securities Inc. in Tokyo, wrote in a report dated Wednesday.
Before it's here, it's on the Bloomberg Terminal.
LEARN MORE