Sri Lanka Vows New Taxes to Curb Deficit as Rupee Flounders
by and
Finance minister says proposals will raise up to $5 billion

Rupee will `correct itself' after dropping to record low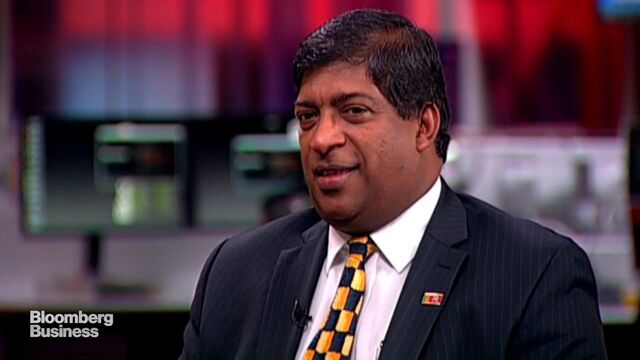 Sri Lanka is aiming to close a fiscal shortfall by raising as much as $5 billion over the next six months through new budget measures as it seeks to win back foreign investors after the currency fell to a record low.
The South Asian nation's budget on Nov. 20 will include a plan to boost revenue through a new tax structure on services, Finance Minister Ravi Karunanayake said in an interview on Thursday in London. The changes will help narrow the deficit next year from 6.8 percent in 2015 and to between 3.5 percent and 3.8 percent by 2018, he said. He also pledged to ease exchange-rate controls and review policies on land ownership.
The measures are designed to boost confidence and stem a sliding currency and deteriorating balance of payments. The changes would echo the International Monetary Fund's recommendations in September for a flexible exchange rate and fiscal consolidation.
The rupee has lost 4.4 percent, the fifth-worst performance among 84 exotic currencies tracked by Bloomberg, since the central bank on Sept. 4 stopped daily interventions to conserve international reserves. The currency sank to a record low of 141.38 per dollar on Sept. 30.
Halting purchases of the rupee "was a corrective act," Karunanayake said. "We believe it will basically correct itself and ensure there won't be such problems in the future."
The finance minister, on a European tour to attract investments into Sri Lanka's stock exchange, said he's targeting about $1.5 billion of foreign direct investment per year in the future.
Dollar Bonds
Karunanayake forecast the economy would expand 6.1 percent this year, by 6.2 percent in 2016 and as much as 7.5 percent in 2017. The economy grew 6.7 percent in April-June under a new calculation method.
Sri Lanka's budget deficit began widening after President Maithripala Sirisena's shift away from China-led investments, and was exacerbated by spending on concessions to win parliamentary elections in August. Sri Lanka sold global bonds this week for a second time in 2015, at yields that some analysts said was higher than outstanding debt implied. The Asian nation may sell more longer-dated dollar bonds in the future, Karunayake said.
Sirisena's allies in August consolidated power by winning the most seats in parliamentary elections and have formed a national-unity government to make economic and political policy shifts. His administration has since softened its stance on China, even while boosting ties with Western nations and India.
Before it's here, it's on the Bloomberg Terminal.
LEARN MORE