Rubio Rises as Rivals Spar Over Résumés, Taxes: Tale of the Tape
By and
Republican candidates use debate to trash media coverage

Trump, Carson remain at center of field as Bush fades again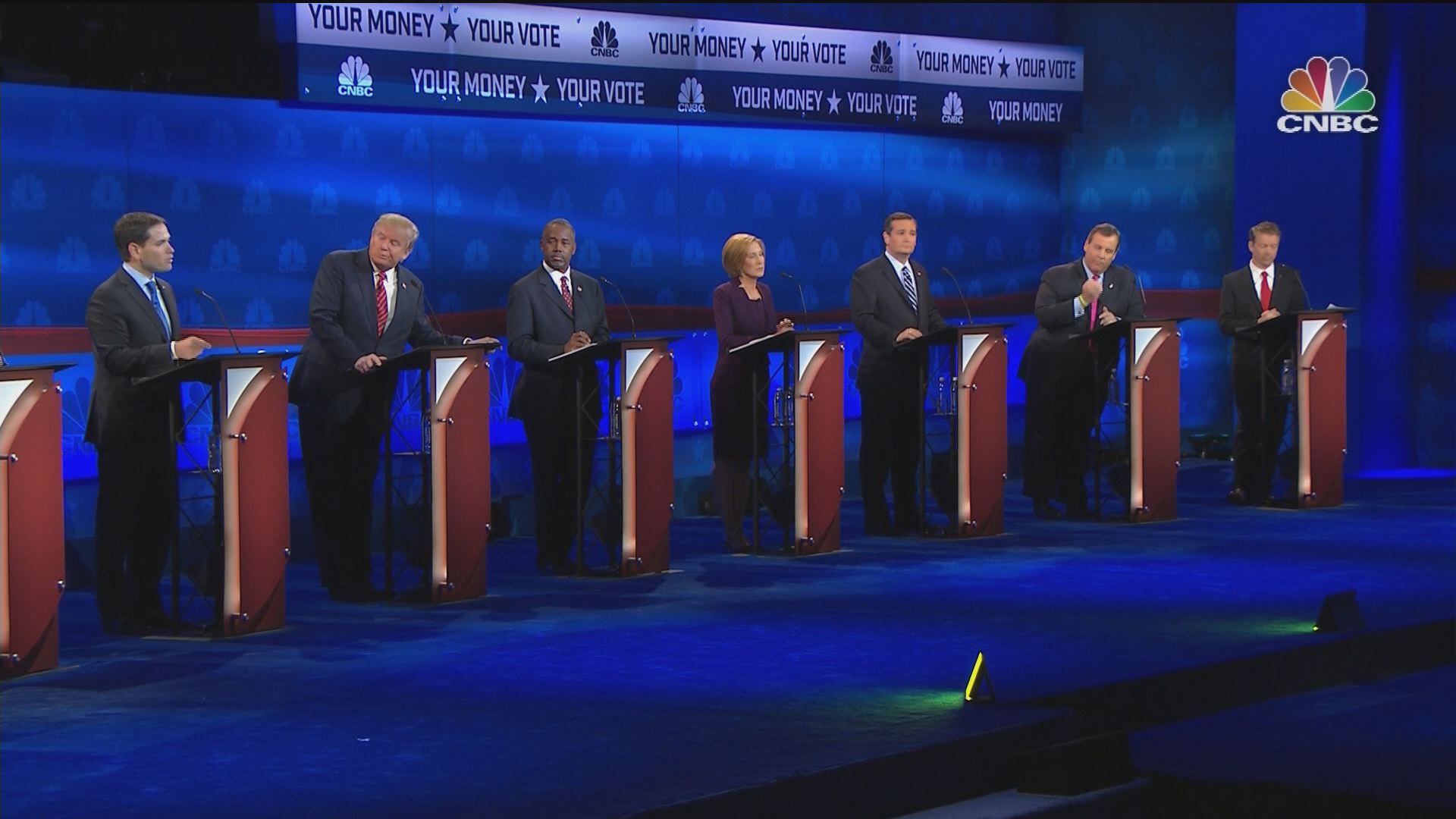 One Republican presidential candidate got hit for working at Lehman Brothers Holdings Inc. in the years leading up to the 2008 financial crisis. Another took heat for basing his tax plan on the Bible. And real-estate developer and reality show host Donald Trump bragged that his four casino bankruptcies were a good thing.
The candidates, trying to break out of a crowded pack, went after each other in a debate Wednesday night in Boulder, Colorado, that did little to cement neurosurgeon Ben Carson's status as a fledgling frontrunner, placed a spirited Trump back at center stage and put former Florida Governor Jeb Bush's fade on display. Senator Marco Rubio of Florida may have had the breakthrough he's been seeking.
Along the way, the dollars-and-cents-heavy debate on financial news network CNBC also saw the candidates unite around one thing: trashing the media. Here's how they fared in the moments that mattered the most.
Business Records
The 10 candidates in the debate are running for the biggest public-sector job, but Ohio Governor John Kasich, former Hewlett-Packard Co. Chief Executive Officer Carly Fiorina, Trump and Carson took shots at each other's records in private business.
Trump described Kasich as working as a "managing general partner" at Lehman "when it went down the tubes." Kasich sidestepped, saying he was merely an investment banker for the company, which collapsed in the 2008 financial crisis.
Kasich's title was a managing director in investment banking, and colleagues said his responsibilities included working with Lehman teams on initial public offerings, debt offerings and other deals in areas including manufacturing, media and technology.
On the campaign trail, Kasich has cited that experience as useful for understanding the American marketplace. At the debate, he said he was proud of his work as a "banker" who traveled around the country to do business.
Both Fiorina and Trump seemed better prepared for questions on their business records.
Fiorina has cited her time as CEO of HP as a key qualification, and said that under her leadership, the company quadrupled its cash flow and top-line growth. Supporters also said HP's board was plagued by infighting before Fiorina arrived, and in the years following her exit, the company outperformed direct competitors like Dell Inc.
Most of the successes cited by Fiorina, however, can be attributed to a takeover of Compaq Computer Corp. that did little to improve profit and led HP to repeatedly miss earnings targets. HP's stock lost more than 60 percent during Fiorina's tenure. In 2005, her last year, profit was $2.4 billion, compared with $3.5 billion during her first year.
At the debate, Fiorina noted that Tom Perkins, the man who ousted her, has publicly said her firing was a mistake. And when debate moderators noted that Perkins had previously said that the rich should get greater voting rights than the poor, Fiorina she didn't always agree with him.
"I will run on my record all day long," she said.
Carson parried a pair of questions about his business record. Asked about his involvement with Costco Wholesale Corp., named by U.K. market research firm YouGov as the most LGBT-friendly company, Carson turned the question into a referendum on the media. He said that while he did not support gay marriage, he's not homophobic, and supports the constitutional rights of gays and lesbians. He said equating gay marriage disapproval with homophobia is evidence of "PC culture that's all about destroying the nation."
Trump, for his part, pitched the bankruptcy of Trump Entertainment Resorts Inc., which owned three Atlantic City casinos, as an asset rather than liability. Trump said he never personally filed for bankruptcy, and came out "great" from the crisis in Atlantic City. He also said his ability to restructure corporate debt would help him restructure U.S. debt.
"Boy, am I good at solving debt problems," Trump said.
Rubio-Bush Feud
Talk about tough timing: On the day of the debate, a Florida newspaper called on Rubio to resign for not showing up to recent Senate votes and voicing frustration over the job of serving in Congress.
Bush, a fellow Floridian and one-time Rubio mentor, continued a simmering feud between the two campaigns.
"I'm a constituent of the senator and I helped him and I expected that he would do constituent service, which means that he shows up to work," Bush said. "He's a gifted politician. But Marco, when you signed up for this, this was a six-year term. And you should be showing up to work. I mean, literally, the Senate -- what is it, like a French work week? You get like three days where you have to show up?"
Rubio parried, noting that Bush never attacked John McCain, the Arizona senator who served as the party's 2008 nominee, for missing votes.
"The only reason that you're doing it now is because we're running for the same position and someone has convinced you that attacking me is going to help you," Rubio said.
Rubio deflected questions about his personal finances, saying his struggles paying off student loans were evidence of how hard it is for Americans, an answer that could resonate with many voters who had their own student loans to pay off.
"I didn't read about this in a book," Rubio said. "I know for a fact how hard it is to raise a family."
Tax Clash
Candidates clashed over taxes as Kasich said his fellow Republicans are offering "fantasy" plans.
"Folks, we gotta wake up," Kasich said. "We cannot elect somebody who does not know how to do the job."
Several tried to defend their tax proposals, even though many of them have been criticized by independent analysts as being overly optimistic or unrealistic.
Carson, who has edged ahead of Trump in some polls, struggled to explain how his tax plan would work, with an across-the-board rate of 15 percent, akin to Biblical tithing of 10 percent, and an equivalent cap on government spending. The neurosurgeon disputed that such an approach would require a 40 percent cut in the federal government. "It's not true," he said.
Carson isn't the only candidate to support a flat tax: Senators Ted Cruz of Texas and Rand Paul of Kentucky also support a flat tax, and their plans have come under criticism.
Trump's plan -- viewed by analysts as one of the more realistic -- would establish tax brackets of 0 percent, 10 percent, 20 percent, and 25 percent, with the most expensive rate applying only to income over $150,000 for single filers. Rubio prefers tax brackets of 15 percent and 35 percent, with the top rate hitting income over $75,000 for single filers.
Bush calls for rates of 10 percent, 25 percent, and 28 percent. New Jersey Governor Chris Christie also favors a three-tiered approach capped at 28 percent, although his bottom rate would be 8 percent.
The Tax Foundation, which bills itself as a nonpartisan tax policy research organization, has said Bush's tax plan would lead to a 10 percent higher gross domestic product "over the long term" and would add 2.7 million more full-time equivalent jobs, while Trump's would boost GDP by 11 percent and create 5.3 million more full-time equivalent jobs.
Media Criticism
Cruz touched off a round of criticism of CNBC, as he attacked the media rather than answering a question from a moderator.
"The questions that have been asked so far in this debate illustrate why the American people don't trust the media," Cruz said. "This is not a cage match."
He faulted the debate hosts for provoking fights among the candidates by asking if Trump was offering "comic book proposals," or questioning Carson's math on his tax plan.
"The men and women on this stage have more ideas, more experience, more common sense" than the Democrats, Cruz said.
Other candidates joined in, with Trump dismissing questions as based on "some bad fact checking."
"You people write this stuff," he said. "I don't know where you get this information."
Rubio turned his media criticism into a slam of Democratic frontrunner Hillary Clinton. He said Clinton has benefited from "the ultimate super-PAC, the mainstream media" after receiving warm reviews for her testimony last week before the House Select Committee on Benghazi.
"The mainstream media is going around saying it was the greatest week in Hillary Clinton's campaign," Rubio said. "It was the week she got exposed as a liar."
Cruz warmed up to the media later in the debate. While he said people might not necessarily want to have a beer with him, he had an offer for the moderators.
"I'll buy a tequila," he said. "Or even some famous Colorado brownies."