Boardroom Compensation Made This Man a Billionaire
by and
Drugmaker's chairman has helped deliver 16,000% return

Received discounted shares, options that fueled net worth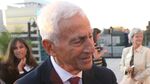 When Roy Vagelos was forced to retire in 1994 as chief executive officer of Merck & Co. at the mandatory age of 65, he feared boredom. So he joined Regeneron Pharmaceuticals Inc.'s board, a move that would make him a billionaire.
Vagelos has amassed a net worth of $1.3 billion from his director compensation, according to the Bloomberg Billionaires Index. It's a rare source of fortune, as the average board member in the U.S. is seldom paid more than $1 million annually, according to data compiled by Bloomberg.

When he joined the Tarrytown, New York-based company in 1995, it sold him 600,000 shares at 50 cents a piece, an 86 percent discount to their price, and kicked off annual option grants that routinely placed him among the highest-paid directors in the U.S. Vagelos, 86, has since helped deliver a 16,000 percent surge in Regeneron's value.
"Every once in a long while, you find a scientist who has deep understanding of the scientific basis of disease, but who also is a great manager -- Vagelos is one of that rare breed," said Mike Brown, a Nobel Prize recipient and Regeneron board member who recruited Vagelos as the company's chairman. "He was probably the most successful pharmaceutical company leader of that era."
Regeneron Billionaires
Vagelos declined to comment through Alexandra Bowie, a Regeneron spokeswoman. Bowie did not respond to e-mails and phone calls seeking Regeneron's comment.
Vagelos joins the company's founder Leonard Schleifer and Chief Scientific Officer George Yancopoulos as billionaires. For four years, Vagelos's contract stipulated that he receive either 125,000 options, or 25 percent more options than any of Regeneron's executives, whichever was higher, filings show.
In the Russell 3000 Index, average director compensation tops $1 million at only 15 companies, according to data compiled by Bloomberg. By comparison, the 10 highest-paid U.S. executives have been awarded compensation packages of more than $90 million, according to the Bloomberg Pay Index.

The former university and government scientist is a legend in the pharmaceutical world. He joined Merck in 1975 and became its chief executive officer 10 years later, transforming the way the industry discovered new products and ushering several blockbuster drugs to market. The week he joined Regeneron, which had recently failed to get a Lou Gehrig's disease treatment through trials, the company's shares spiked 75 percent.
Struggling Business
What drew Vagelos to Regeneron in 1995 was founding scientist Yancopoulos, a graduate of Columbia University's medical school, Brown said. Because Yancopoulos had never taken a drug to market, Vagelos served as a father figure who retooled Regeneron's research process and constantly reviewed its science, Brown said.
When Vagelos joined the struggling business, he helped develop the idea of trapping and neutralizing molecules that might be involved with the disease's development, a process that fueled the success of Eylea, a drug for macular degeneration. The treatment was approved in 2011 and crushed sales estimates.
Reshaped Objectives
"I felt Regeneron was in a position to do what Merck had done two decades earlier, but only if the research objectives were reshaped," Vagelos wrote in his 2004 autobiography "Medicine, Science and Merck," which he co-authored with Louis Galambos.
Pindaros Roy Vagelos was born in 1929 in Westfield, New Jersey, and Greek was the exclusive language of the house, he wrote. His father Herodotus later ran a Rahway luncheonette, where many of his customers were Merck employees. Vagelos got to know scientists while working the soda fountain.
He interned at Merck in 1951 and returned in the early 1970s as a consultant. He became head of research in 1975.
"He started a new way of looking for drugs," said Brown. "He developed the idea of targeted screening, where you would take a pure enzyme and screen a panel of candidate drugs against a pure molecule in a test tube, instead of in an animal."
Arthritis, Glaucoma
The process proved more efficient. Under Vagelos, Merck pushed out new drugs for cholesterol reduction, arthritis, bacterial infections and glaucoma. He was named CEO in 1985.
Regeneron was focused on degenerative diseases attacking the nervous system, such as Lou Gehrig's disease. Vagelos pivoted the company away from nervous system conditions toward obesity, arthritis, asthma and allergies. It's since brought four injection-based drugs to market: Eylea, Praluent for hypercholesterolemia, Arcalyst for autoinflammatory disorders and Zaltrap for metastatic colorectal cancer.
"As should be clear by now, my fears about retirement were unwarranted," Vagelos wrote.
Before it's here, it's on the Bloomberg Terminal.
LEARN MORE