People Have Some Interesting Thoughts About Peer-to-Peer Lending
Do marketplace lenders need access to the Fed's discount window, tax breaks, and more?
by and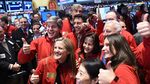 Peer-to-peer, or marketplace, lenders have been growing fast as they seek to disrupt the traditional world of banking by connecting borrowers directly with lenders. As they develop, however, they're bumping against a host of old and new rules, including a recent court decision that could make it more difficult for them to lend. They're also becoming more firmly entrenched with the banks they had once set out to circumvent.
Earlier this year, the U.S. Department of the Treasury asked for more information about the swiftly expanding industry.
On Thursday, Counselor to the Secretary Antonio Weiss said at a marketplace lending conference in New York that his department is still analyzing the comments received. "Treasury will continue to monitor developments in this important and rapidly evolving marketplace," he said. "Our guiding principle will remain to seek the broadest possible access to safe, affordable, and sustainable credit."
Here's what caught our eye in the more than 100 responses received by the Treasury Department.
The American Bankers Association and the Consumer Bankers Association made the point that "P2P" lenders face less of a regulatory burden than the banks they're arguably competing with:
Banks are subject to stringent and regular examination by state and federal agencies who proactively address concerns before an issue arises that could impact consumers. Currently alternative lenders have little regulatory oversight and typically only see examinations in response to consumer complaints. Consumer protections mean little unless there is oversight to ensure that they are being applied fairly, uniformly, and consistently.
The Milken Institute, meanwhile, argued the sector shouldn't face harsh regulation just because it's new:
Because marketplace lending is such a rapidly innovating field, regulators should avoid overly prescriptive regulation that favors or requires particular models. Rather, regulators should favor principles based regulation that focuses on an end result of transparency and protection while allowing market forces and consumer choice to drive specific implementations.
Milken also had some thoughts on the recent court ruling, known as Madden v. Midland Funding. The ruling may restrict marketplace lenders from bypassing state usury laws by joining with banks in states where there are no such rules:
While failure to address the problem raised by Madden would probably not kill marketplace lending, it might force lenders and their partners to create new and more complex structures that, while technically compliant, were even less related to the economic reality of the transaction and instantly subject to litigation. Lenders could also pursue state licenses, but this would be costly, time consuming, and potentially difficult for new entrants relative to the bank-partnership option. A legislative fix would quickly provide needed clarity and consistency to the market.
The Structured Finance Industry Group (SFIG) thought new regulations could stifle the nascent sector:
While we expect industry standards to continue to evolve for this market, we firmly believe that for the various asset classes involved there are comprehensive sets of regulation and industry standards already in place. We strongly caution that any attempt to create new regulations targeted solely at this market may, in fact, have the undesirable result of stifling innovation and growth, potentially limiting access to and availability of credit for consumers and small businesses.
CommonBond, a marketplace lender that specializes in student loans, argued peer-to-peer lenders should have access to the Federal Reserve's discount window, which offers funding for banks:
Traditional banks have a large advantage in cost of funds over marketplace lenders. Ranging from low-cost consumer deposits to accessing the Fed window, these banks have an outside advantage when it comes to lending capital. The federal government can take steps to address this inequality by creating a level playing field for marketplace lenders. First, the government can encourage institutional investors to invest in marketplace lending by simplifying investment rules. Second, they can offer a lending window to marketplace lenders similar to traditional banks (e.g., access to a low-cost government credit facility for responsible lenders).
Lending Club, the world's biggest marketplace lender, has a laundry list of requests, including access to government data and some tax breaks for the notes it sells to investors:
The federal government could create significant benefits for borrowers by improving borrowers' ability to share government-held data with lenders with the express consent of the borrower, by creating incentives in the tax code to increase economic growth in underserved communities and promote savings, and by simplifying the tax reporting and statement delivery for investments in marketplace loans. …

We propose that the IRS's tax treatment of the losses match the treatment of income from marketplace lending. Further, given the attractive returns profile for these investments, the Treasury could encourage savings for investors, particularly in retirement accounts, by reducing or eliminating the tax burden on small dollar investments up to $5,000.
When it comes to the securitization of P2P loans, investors like Blue Elephant generally resisted the notion that marketplace lenders should have to keep a piece of the deals sold to investors:
We do not believe that "skin in the game" models are superior to models where loans are sold in their entirety. Unlike banks that have sticky capital in the form of deposits, marketplace lenders are reliant on a broad spectrum of investors to raise their capital. This is their "skin"—if they lose support of their investor base, they effectively fail to function as a business. Forcing a platform to hold loans will not necessarily make them a better lender.
You can read more responses to the Treasury here.
Before it's here, it's on the Bloomberg Terminal.
LEARN MORE