New York Times to Christie: Go Home, and Please Subscribe Now
By
Newspaper tells him to give up campaign for sake of state

New Jersey governor says he can't access the article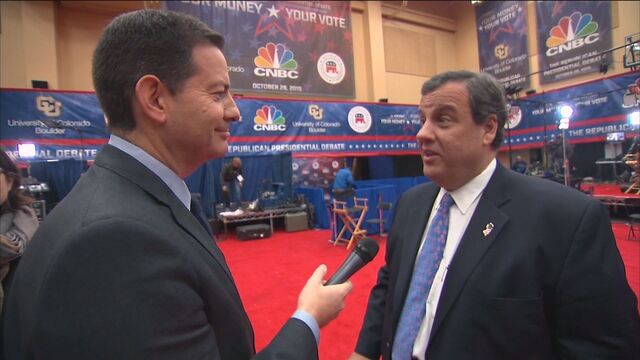 Attention, opiners of Eighth Avenue: Chris Christie isn't going anywhere.
That was Christie's response after the New York Times editorial page told New Jersey's governor Thursday it was time to give up his White House bid and skulk back to Trenton.
Well, Christie says he doesn't subscribe, so he didn't read their editorial. So take that.
The Republican governor of New Jersey, who has had a tenuous relationship with news organizations, said months ago that he was canceling his paper because the editorial staff was unfairly targeting him.
The Times, one day after Christie won praise from some observers for his performance during CNBC's Republican presidential debate, wrote that the governor "said little of substance."
"It's that time in the ever-long presidential campaign when candidates lacking money and mojo are starting to go back to their plows," the editorial board wrote. Christie "should join them."
Christie, who is near the bottom of most polls, retorted on Twitter: "Can't read the article because I don't have a subscription."
The Times opinion page sent him a link to a web page where he could sign up.
"I can tell you this -- I am not going anywhere," Christie wrote on Twitter.
Christie's campaign wasted no time in pointing out the Times' "true liberal bias" in an e-mail asking for support.
"The New York Times is at it again," said Maria Comella, the chief messaging officer. "Republicans need someone tough enough, strong enough, and tested enough to stand up to the repeated attacks of the mainstream media."