Nespresso to Bring George Clooney Coffee Ads to U.S. Market
by
Actor to help single-serve brand catch up with leader Keurig

Danny DeVito will star in TV ads with Clooney starting Nov. 2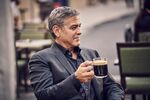 For years, George Clooney has been asking Europeans: "Nespresso. What Else?" For the Swiss company behind the brew, the answer is clear: America.
Clooney, 54, will feature in Nespresso ads in the U.S. for the first time to help promote the Nestle SA coffee brand in a market that's proven resistant to smaller cups of java. Alongside actor Danny DeVito, Clooney will star in television ads beginning next week where he "trains Danny in the art of good taste," according to a statement. The Oscar-winning actor and director has represented Nespresso -- which makes single-serve espresso machines and capsules -- outside North America since 2006.
Nespresso needs Clooney's star power to help boost sales of a new machine tailored to the world's biggest coffee market, where latte-loving Americans prefer to grab their caffeine on the go at chains like Starbucks Corp. and Dunkin' Donuts. Inside U.S. homes, Keurig Green Mountain Inc. devices that deliver bigger servings dominate. Talks with Clooney about extending his deal began in January, according to Nespresso Chief Executive Officer Jean-Marc Duvoisin.
"The U.S. is so large that if we really want to get through, we need support and strong impact," Duvoisin said in a phone interview. "This is what we believe we'll be getting with our campaign with George Clooney."
Hollywood Celebrities
Corporate brands often turn to Hollywood celebrities to burnish their image. In 2002, Welsh actress Catherine Zeta-Jones became the face of wireless carrier T-Mobile. Cameron Diaz and Leonardo DiCaprio have endorsed TAG Heuer watches. More recently, Matthew McConaughey fronted television ads for Ford Motor Co.'s Lincoln-brand cars.
Not every deal works: take the short-lived 2013 partnership whereby singer Alicia Keys became "global creative director" of smartphone maker BlackBerry Ltd.
Some stars prefer to keep their endorsements outside the U.S., for fear that the commercial affiliation could hurt their image. One example of this is fictional, when Bill Murray played a fading American movie star who shoots liquor ads in Tokyo in the 2003 movie "Lost in Translation." Clooney has done Japanese ads for Honda, while Uma Thurman and Jeff Bridges represent German fashion chain Marc O'Polo.
No Stigma
Small-screen ads no longer carry a stigma for big-screen actors, according to Robert Thompson, head of Syracuse University's Bleier Center for Television and Popular Culture. "TV ads are much hipper and much cooler than a decade ago," he said. "I don't think people feel an obligation to hide it."
In years past Clooney had been unwilling to appear in ads in his home market, yet he now does so for both Nespresso and Swiss watch brand Omega. His Nespresso deal includes an online film where he discusses how the brand supports farmers in war-torn South Sudan.
Nespresso is one of Nestle's biggest growth engines yet has struggled to crack the U.S. market over the past decade. There, its 3.8 percent market share is dwarfed by Keurig's 44 percent, according to data tracker Euromonitor. Globally, it sold 22 percent of the world's single-serve coffee in 2014.
"Nespresso is very, very niche in the U.S., and missed the boat in that market as it's already established," said Jonny Forsyth, a beverage industry analyst at Mintel Group.
The Swiss company introduced its 8-ounce-serving "VertuoLine" machine last year to appeal to Americans' preference for bigger cups of coffee. The U.S. is showing high-double digit growth, Nespresso Chairman Patrice Bula said in a September interview.
Nespresso represents about 25 percent of Nestle's coffee sales and 4 percent of its $92 billion in total revenue, analysts at Sanford C. Bernstein estimate. Nespresso has more than 400 retail boutiques worldwide, of which 36 are in the U.S.
Before it's here, it's on the Bloomberg Terminal.
LEARN MORE