A Guide to Made in America
Maker's Row has compiled listings on 8,000 U.S. factories.
By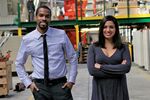 New Englander Spencer Hirst had been living near Jackson Hole for a few years when he hit on the idea for a line of what he calls "mountain formal attire" that could piggyback on the Wyoming resort area's thriving wedding business. Coming up with designs for bow ties and other accessories turned out to be the easy part, says Hirst, whose Western Range line will go on sale in November on his website and at local boutiques. "Fashion is tough," he says, "because no one really wants to tell you where they're getting their stuff made."
Then Hirst found Maker's Row, an online directory that contains profiles of some 8,000 manufacturers, all in the U.S. Browsing the site, he came across a listing for Genil Accessories, a garment factory in Brooklyn, N.Y., that turns out ties, pocket squares, scarves, and similar items. Its profile on Maker's Row included a video of founder Gina Bhim. Hirst was impressed: In late July, he placed his first order for 250 bow ties and 250 neckties with Genil.
On Maker's Row, manufacturers get a basic listing for free or pay about $50 a month for more elaborate profile pages that may include photos of finished products and video tours of factories; $200 a month buys priority placement in search results. Registered users—the site has 80,000—get basic manufacturer information for free or pay $20 a month, like Hirst does, for access to a detailed search feature, customer reviews, and direct factory contacts. The Brooklyn-based company that runs the site wouldn't disclose how many paid subscribers it has or whether the business is profitable.
Co-founders Matthew Burnett and Tanya Menendez, a couple, say Maker's Row was inspired by a problem not unlike Hirst's. Burnett, a New York-based veteran of Marc Jacobs and DKNY, started his own watch brand in 2007. Yet his small business had little leverage with the huge Asian factories filling his orders. One manufacturing snafu cost him $40,000. For startups, he says, "there is no red carpet overseas."
Burnett switched to leather goods but struggled to find domestic factories to handle growing demand for his company's wallets, belts, and accessories. "We knocked on doors, cold-called, even checked the Yellow Pages," says Menendez, who was working at Goldman Sachs at the time. She came up with the idea for a site that would help connect designers with American manufacturers.
Digital tools ranging from crowdfunding sites to online storefronts have opened paths for independent designers. While some fairly well-known brands such as Shinola and Brooklyn Industries have turned to Maker's Row to source production, many of the site's users are 9-to-5ers with ideas for products but no road map for how to turn them into a business. The registration-and-fee structure helps weed out the frivolous, Menendez says.
To guide more committed newbies, Maker's Row also offers educational content, including a free six-week online course called Production 101. The 25-person company has opened an online store showcasing the wares of its designers. It's also piloting a payment system that factories could use for billing. "We're joining an ecosystem that's lowering barriers for small and medium-size businesses," Burnett says.
Many American manufacturers want to diversify their client base and have learned that means getting online. At MCM Enterprise, a cut-and-sew operation housed in a 20,000-square-foot space in the Gowanus area of Brooklyn, Chief Financial Officer Chung Yu talks about how the recession underscored the risk of relying on a small number of big clients. MCM is using Maker's Row to get its name out, he says, "like a form of advertising."
The Made in America emphasis has turned Maker's Row into a darling of politicians. Democratic Senator Cory Booker of New Jersey helped shepherd a slew of Newark factories into the database. Burnett and Menendez were invited to take part in a Maker Faire hosted by the White House last year.
Genil Accessories was down to just two workers after being battered by the recession when Burnett and Menendez came knocking in 2012. Now it has 13. Showing a visitor around a loftlike space crammed with sewing machines and bolts of fabric, owner Bhim points out orders in progress for recognizable names—Cole Haan, Walt Disney, Vineyard Vines—as well as upstarts like Hirst. A few days later, the first shipment of Western Range bow ties, with a distinctive stylized antler pattern, arrived at the designer's door. He pronounced them "absolutely stunning."
The bottom line: The Maker's Row website has 80,000 registered users, some of whom pay fees to access in-depth profiles of U.S. manufacturers.
Before it's here, it's on the Bloomberg Terminal.
LEARN MORE